This serie of articles, called "NEW @ The Paddle Sports Show 2021" showcases the products that are competing for the « PADDLE SPORTS PRODUCTS OF THE YEAR AWARDS »
Entry for CANOE – ONAK-X by ONAK CANOES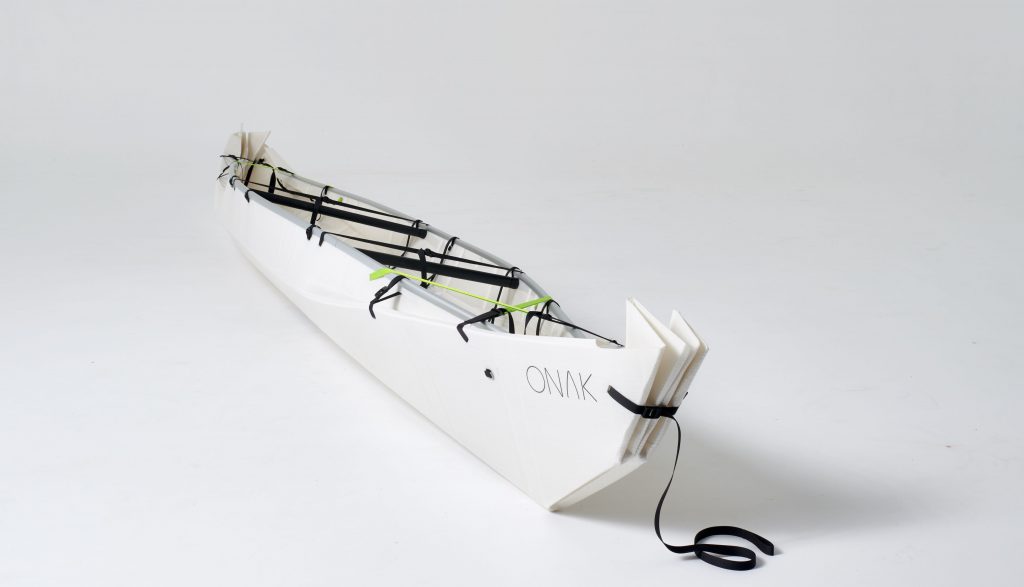 "We are ONAK canoes and we will join the Paddle Sports Show for the first time this year."

"We think we could qualify for the Product of the Year Award, in the Canoeing category."

"Our product is a folding canoe, which can be set up origami wise and can be transported compactly. Moreover, it is very strong, unsinkable due to the specially developed sheet material and very light (<15 kg for the 2-person version). Naturally, the sailing characteristics such as stability, maneuverability and comfort are also of a high level. Assembly and packing of the Onak only takes about 10 to 15 minutes. No prior knowledge or additional tools are required."

"You are undoubtedly aware that several folding boats have been available on the market for several years now. But our most recent model, the Onak-X, has 2 unique features:"

1) First of all, it is a hybrid boat, meaning it can be sailed in both a traditional canoe way and in a kayak way with double bladed paddle. The well-considered sitting position with back support plays an important role in this. Available in 1- and 2-person version.

2) The Onak-X is not only available as a standard ready-to-go, but also as a DIY version (do it yourself). With 2 hours of manual work consisting of tying straps, placing stickers and prefolding the hull, you can get to know your boat better and save 200€.
More info on the ONAK WEBSITE
This serie of articles, called "NEW @ The Paddle Sports Show 2021" showcases the products that are competing for the « PADDLE SPORTS PRODUCTS OF THE YEAR AWARDS »
It is produced & organized by KS Publishing (publishers of Kayak Session, Paddle World and Sup World magazine).
The Paddle Sports Show, is the world's largest paddlesport-specific trade show ('trade show' meaning entrance is reserved for professionals) highlighting what the general public will find on shelves and in stores in 2022. It includes everything from kayaks and canoes to stand-up paddle boards and inflatables, with the apparel and accessories needed for it all. See the product and meet the manufacturer at The Paddle Sports Show 2021 in Lyon (France) > www.thepaddlesportshow.com