 LYON, FRANCE, september 29th – october 1st 2021
The annual international paddle sports industry rendez-vous
TRADE SHOW, ON-WATER DEMO, FILM FESTIVAL, AWARDS, TESTIVAL,  EVENTS, TALKS, AND MORE…
The Paddle Sports Show takes place from Sept 29th through Oct 1st 2021 in Lyon France and draws buyers from specialty stores, purchasing centers, rental stations and outfitters across France, UK, Europe and around the world. The show features 150+ booths of apparels, boats, boards and accessories  and a complete line-up of special events, including talks & summits, the Paddle Sports Product of the Year Awards, film festivals, races, and on water-demos. Expected buyer and exhibitor turnout exceeds 2500 attendees including retailers, exhibitors and media per show. Paddle Sports Show is a TRADE ONLY EVENT and is not open to the public.
"kayaks, canoes, stand up paddles, foil sports, outriggers, No matter what the market segment you are in or after, The Paddle Sports Show is your one-stop business place for the latest product and trends."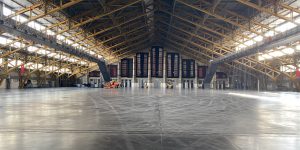 Day 1 / 9:00 – 19:00
Stand Party / 19:00 – 22:00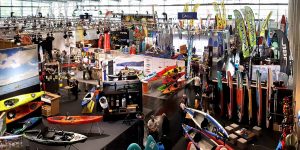 Day 2 / 9:00 – 19:00
Industry Party / 19:00 – 00:00
(Incl. Paddle Sports products of the year awards Ceremony)
Day 3 / 9:00 – 13:00
On water Demo* / 14:00 – 18:00
(*for industry professionals only.)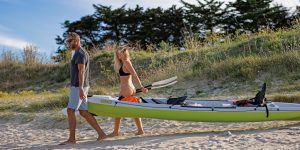 An event supported by Métropole de Lyon
Enthusiast's Day : On water demo & test, Races,  Events, Film festival opened to paddlers from clubs, racers, associations etc…
(Not part of the trade show but exhibitors welcomes !)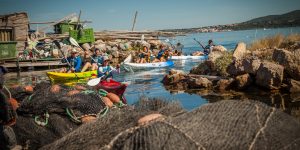 The show is taking place at La Halle Tony Garnier located 17 avenue Tony Garnier, 69007 Lyon.
The chosen location – Hall Tony Garnier – could not be better located for a Paddle Sports Trade Show with the exhibition center only 250 meters from the river Rhône.
Located downtown with direct flights from anywhere in Europe and the world.
With the airport less than a 30-minute drive from the show, a train station three tram stops away, and a tram stop on the show's doorstep, this is a "green" show. Once you reach Lyon, there is no need to use a car. From the river to the hall to the city center, it is all in one place!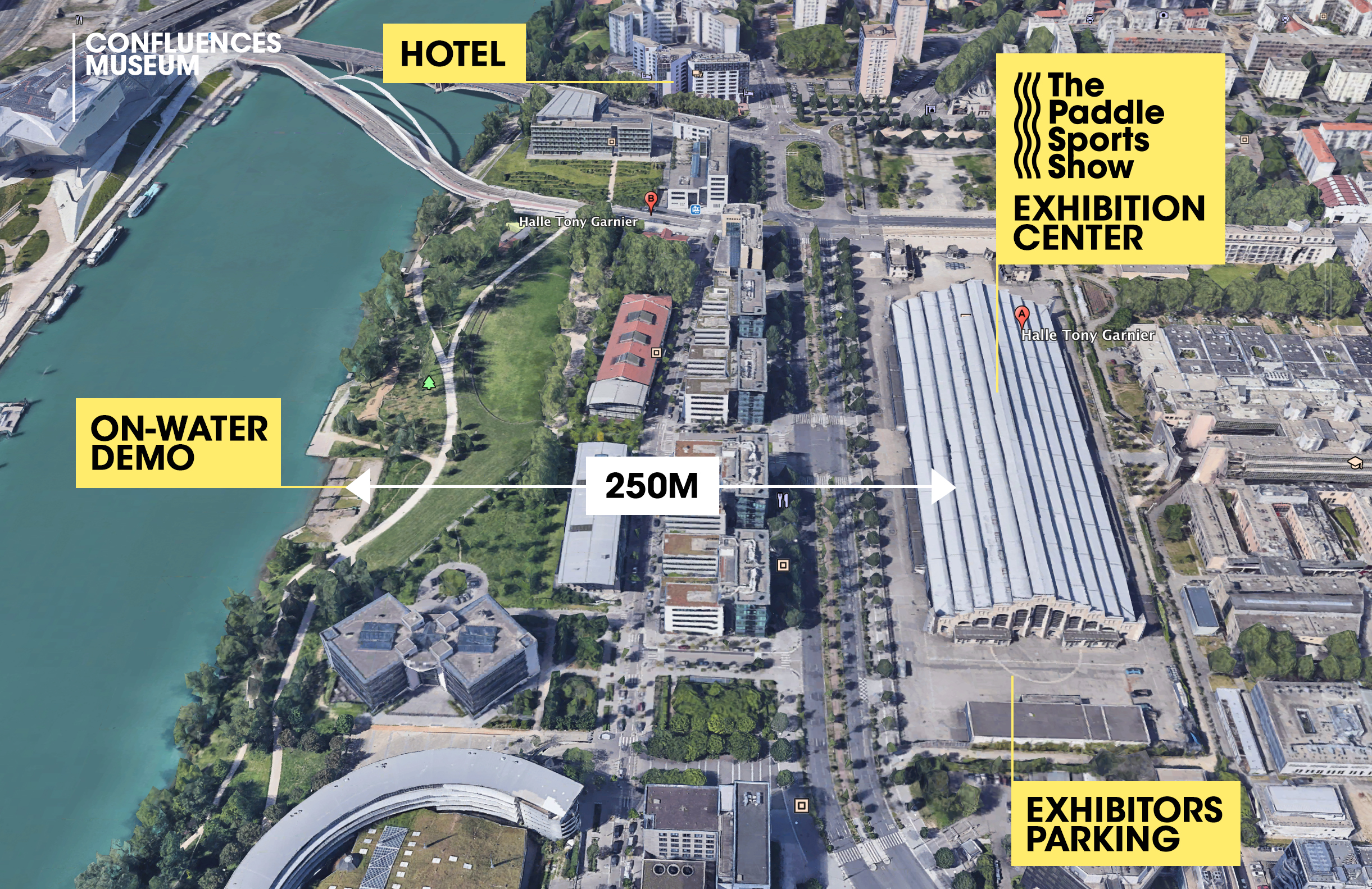 Plane: Fly to Lyon Saint-Exupéry Airport
Train :  Part Dieu or Perrache train station
Drive : 20 Place Docteurs Charles 17 avenue Tony Garnier, 69007 Lyon
GPS
North East Gate
45,7314 N / 4,8255 E
North-West Gate
45,7314 N / 4,8244 E
South-West
45,7286 N / 4,8242 E
PARKINGS
The free parkings (Not guarded!)
Avenue Jean Jaurès (near the Stadium Gerland).
The paying parkings
>Rue du Vercors,
(parking of the store Casino)
>Rue Jonas Salk (824 cars, 18 motorbikes, 18 bikes) :
0,65 €/15 minutes (9 am till 7 pm)
Rate Night (7 pm to 9 am)  = 5,85 €
public transports to the show
FROM AIRPORT
"Rhonexpress" shuttles every 30 mins to Part Dieu train station. book your ticket here: rhonexpress.fr
FROM TRAIN STATION
Tramway T1 (from Perrache train station)
> Stop Halle Tony Garnier
 Metro (from Part-Dieu train station)
> Line B
> stop Debourg
> then walk 10 min
> or take Tram T1 or bus No. C22
>stop Halle Tony Garnier
Bus from Train Station Perrache
> Bus No. C22
> stop Halle Tony Garnier or
> Place Doctors Mérieux
> Bus No. 60
> stop Halle Tony Garnier
Bus from Jean Mace
> Bus No. C7
> stop Place Doctors Mérieux
> Bus No. S3
> stop Halle Tony Garnier

> for all the info on Lyon's Public transportation network:  tcl.fr
EUROPE
Germany: Berlin, Munich, Frankfurt, Dusseldorf, Hanover, Nuremberg, Hamburg, Stuttgart
England: London, Birmingham, Southhampton, Bristol, Manchester
Autriche: Vienna
Belgium: Brussels
Balearic islands : Ibiza, Palma de Mallorca, Menorca.
Croatia: Dubrovnic, Split
Denmark: Copenhagen
Greece: Athens, Mykonos, Santorini, Cos, Corfu, Rhodes, Zakynthos, Kalamata, Heraklion, Chania
Hungary: Budapest
Ireland: Belfast, Dublin
Iceland: Reykjavik
Italy: Rome, Milano, Naples, Bari, Bologna, Catania, Comiso, Olbia, Florence, Venice, Palermo
Luxembourg: Luxembourg 
Malta : Valletta
Netherlands : Amsterdam
Poland: Karkow, Warsaw
Portugal : Faro, Lisbon, Porto, Madeira
Romania: Bucharest, Cluj
Russia: Moscow, St Petersburg
Czech Republic: Prague
Serbia: Belgrade
Switzerland: Zurich
Sweden: Stockholm
OCEANIA
Australia: Melbourne
ASIA
Armenia: Yerevan
Thailand: Bangkok
China: Benjing, Shanghai, Hongkong
NORTH AMERICA
Canada: Montreal, Toronto, Québec, Vancouver
Usa: Boston, Los Angeles, New York, Chicago, Miami, San Francisco
Cuba: Havana
Costa Rica: San Jose
Dominican Republic: Punta Cana
Mexico: Cancun
SOUTH AMERICA
Brazil: Sao Paulo
Argentina: Buenos Aires
MIDDLE EAST
Lebanon: Beirut
Israel: Tel Aviv
Jordan: Aman
UAE: Dubai
Qatar: Doha
Turkey: Istambul, Antalya, bodrum, Izmir
AFRICA
The Madives: Male
The Seychelles: Seychelles
Algeria: Algiers, Oran, Setif
Morroco: Marrakesh, Essaouira, Agadir, Casablanca, fez, Oujda
Tunisia: Djerba, Tunis, Mozeur
Senegal: Dakkar
Ivory Coast: Abidjan
Congo: Kinshasa
Cape Verde: Sal
Reunion Island: St Denis de la Reunion