For a growing number of paddle sports athletes, endurance paddling and long-distance/endurance racing are gaining popularity and appeal.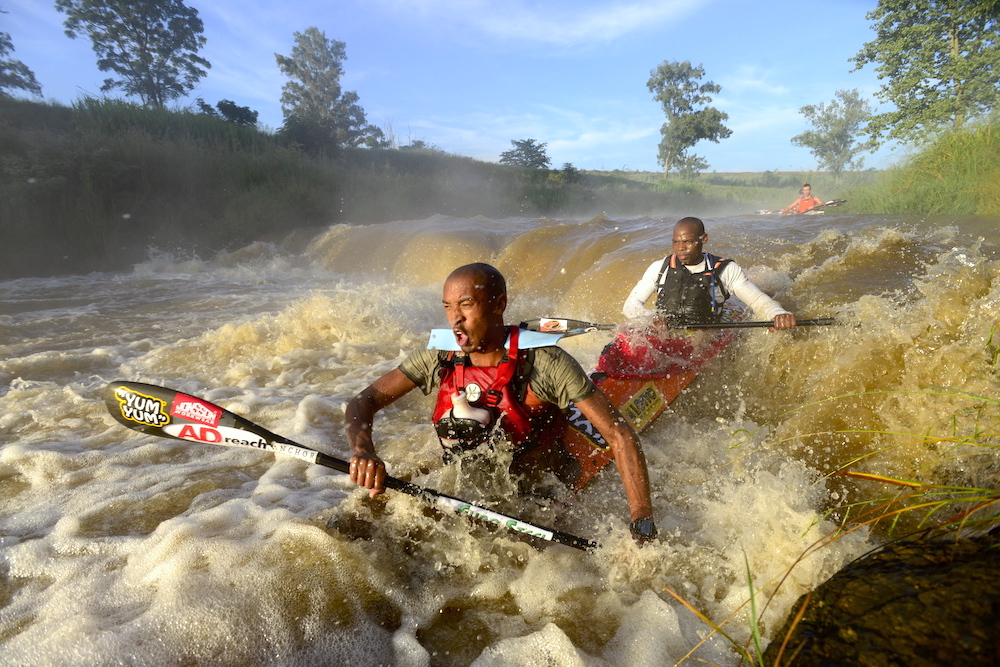 Your duck your head, turning your cheek to combat the headwind as you focus on placing your next paddle stroke. Your blade dips into the water for what feels like the 100,000th time. Arms and legs aching from the past several hours on the water, you grit your teeth and take the next stroke into the surrounding wilderness. Ahead lies a mere hundred miles to go. Sound like torture? It is. Yet endurance paddling and long-distance/endurance racing are gaining popularity and appeal. As paddlers turn to endurance for a new challenge and endurance athletes look to paddle sports, the question becomes, is endurance paddling simply the current fitness trend, or is it here to stay?
While paddle sports have always held a fitness component, with each discipline requiring a unique combination of balance, strength, flexibility, power, and coordination, the past few years have seen an undeniable increase in those motivated to push their paddling—and their physical capabilities— to the limit. This growth is seen primarily in increased participation in endurance-style races and the rising popularity of paddling longer distances over longer periods of time—and in more extreme environments.
Endurance events are loosely defined as an athletic endeavor lasting more than six hours. While elite participants focus on time, the goal is typically to keep going. Ultra-running races typically range from 50 kilometers (30.7 mi) to 100 miles (160.9 km), while ultra-cycling races start at 100 miles. In paddle sports, races can span multiple days and/or extreme conditions. For example, the Yukon River Quest (444 miles/715km) or the Sup 11 City tour, which advertises itself as a race that "takes you on a wild ride over 5 days, 136 miles (219 km), and 11 cities in the canals of Northern Holland." Even with more events to choose from, well-established races like the Dordogne Integral (80.7 mi/130 km), which began in 2006, are seeing an increase in participation numbers and diversity. The 2022 Dordogne, in April, already boasts 500 registrants from 15 countries.
"Is endurance paddling simply the current fitness trend, or is it here to stay?"
Why are increasing numbers of paddlers attracted to the torturous experience of endurance events? "One hypothesis," writes Brad Stulberg in an article titled "Why Rich People Love Endurance Sports," "is that endurance sports offer something that most modern-day knowledge economy jobs do not: the chance to pursue a clear and measurable goal with a direct line back to the work they have put in."
"Now more than ever, there is a common realization worldwide that people need purpose and that time is short, so best get stuff done," points out Surfski Pro Dawid Mocke. Endurance races, which require intensive training and time, can provide a long-term goal and a focus that adds purpose to daily life. Many races have a charitable element, where race fees contribute to a cause, such as medical research or establishing environmental protections. While fitness and altruism are strong motivators, Mocke also reminds us that the benefit and appeal of endurance paddling go far beyond the physique it sculpts. "Endurance events are typically adventurous and take a participant on a journey, not only in the physical sense but also emotionally and spiritually."
As extreme sports become more mainstream, some will inevitably seek to escape the crowds and push limits. Athletes speak about their search for the flow state, a state of unity between your body and mind, where, under the right conditions, you become fully immersed in whatever you are doing, where "the feelings that would consume you under normal circumstances (inhibition, hunger, fatigue, or aches and pains) melt away." (Headspace.com) The flow mental state, popularized by positive psychologists Mihaly Csikszentmihalyi and Jeanne Nakamura, presents more during challenging and engaging activities than when at rest. According to Csikszentmihalyi, "The best moments in our lives are not the passive, receptive, relaxing times… the best moments usually occur if a person's body or mind is stretched to its limits in a voluntary effort to accomplish something difficult and worthwhile." (Headspace.com) Many endurance aficionados describe experiences that humble, a sport stripped down to its purest elements or moments of spirituality that border on the sublime. "None of (my) four world titles come close to what I experienced today. I didn't feel I conquered (Skagerrak), Skagerrak conquered me," said SUP Athlete Casper Steinfath after paddling the Skagerrak Strait, a 130-kilometer (80.8-mile) stretch of ocean separating Denmark and Norway.
Endurance paddling is here to stay and will continue to grow. In the long term, this will be the impetus for developing new products, equipment, and apparel, particularly in the safety arena. There will also likely be developments off the water regarding how athletes train, fuel, and prepare, leading to a greater understanding of how our sport and our bodies function. And, in an industry long led by leisure and pleasure and enjoyment, perhaps there will be increased recognition and funding for athletes and professionals. Let that next paddle stroke remind you of your potential, regardless of how far you go.