Packrafting is claiming a place at the proverbial paddle sports table. Once considered niche, packrafting has continued to garner (grudging) respect and acceptance from almost every aspect of the community and created its own devotees along the way.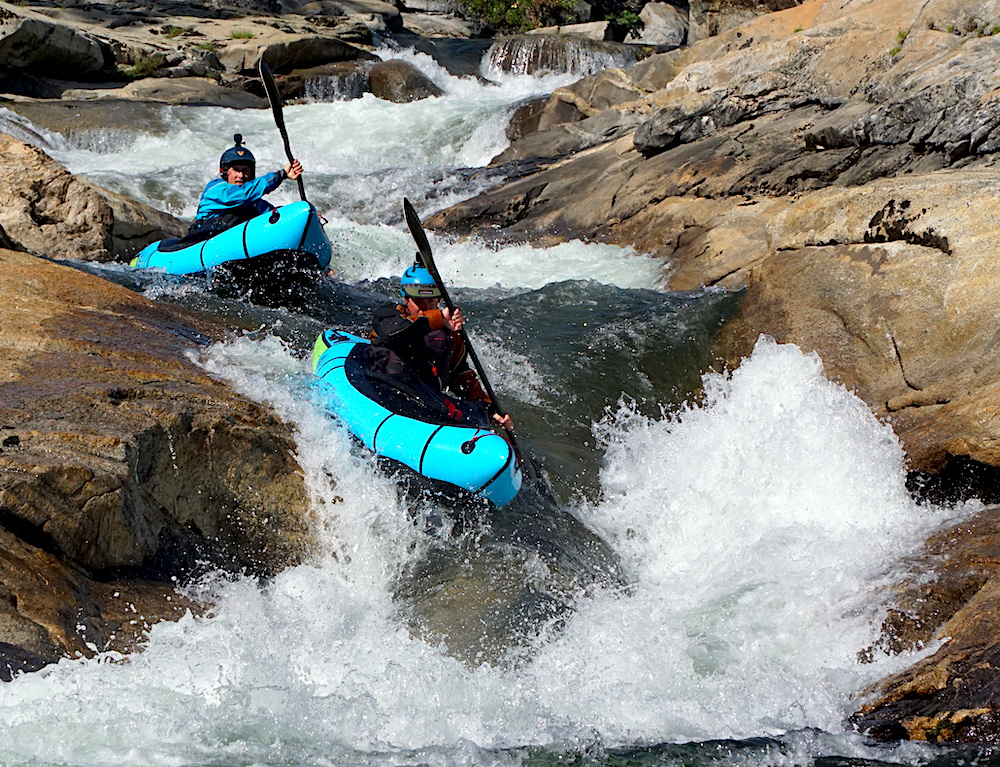 The modern packraft might be the ultimate paddle sports craft. It is accessible for beginner, intermediate, and expert paddlers, useable on a wide variety of waterways, combines with other passions, is easy to transport or store, and opens new potential for adventure—even if you don't consider yourself a paddler.
A lightweight, packable (but durable), normally single-person raft designed to be carried in a backpack or even on a bike, packrafts bridge the gap between a raft and a kayak. The biggest difference between a packraft and a standard inflatable kayak is their packability—and weight! A packraft weighs around five pounds (2.5 kg), compared to 18 pounds (8 kg) for a lightweight SUP or ducky or 40 pounds (18 kg) for a whitewater kayak. The modern packraft provides a friendly welcome to paddlesports for those who already love the outdoors and are looking to take their adventure further. "Packrafts are so lightweight, packable, and versatile that you can easily put a packraft and gear in your backpack as part of a day hike, bike ride, or family day out," asserts Seon Crockford-Laserer of Packraft Europe. For those already familiar with paddlesports, packrafts speak to the desire to explore off the beaten track—which, after two years of being stuck closer to home, is stronger than ever.
"Packrafts have opened up a range of access opportunities for all types of outdoor adventures," says Barny Young of Packraft New Zealand. New Zealand's mountainous South Island terrain is the perfect venue for packraft adventures. "We have very few roads but an extensive backcountry track network that allows packrafters to head further up rivers and across alpine lakes that were previously inaccessible. This opens up a range of new options for hunters, fishermen, climbers, kayakers, skiers, or hot pool connoisseurs who can hike to a remote hot spring, soak, then float back to the car."
Packrafting has especially found a home in the whitewater world, with festivals, beginners, and established whitewater athletes embracing this strange cousin. Packrafts introduce beginners to whitewater without the fear of being trapped upside down, while their responsiveness allows them to perform well for skilled paddlers on harder whitewater. Whitewater pros are using the inflatable crafts to put together new missions and access destinations previously considered too remote, challenging, or complicated, or share favorite places. Young, Ryan Lucas, and Logan Froreip hiked 35 km into a remote ice lake in the heart of New Zealand's southern alps at the top of the Butler River and paddled down. French RedBull athlete Nouria Newman teamed up with mountain guides and took packrafts and skis to Iceland, where they traveled 190 km in 9 days, crossed the largest glacier in Europe, skied down Hvannadalshnukur, and packrafted out. Waterfall World Record-holder Tyler Bradt recently paddled the Grand Canyon of the Colorado River in packrafts with his 80-year-old father, Bill. "These boats made it possible for us to paddle much of this river together, and I am continually amazed by how capable they are," says Tyler.
"Paddlers around the world, from beginners to pros, are confirming what many already knew: packrafts are a great addition to any modern adventurer's arsenal."
The packrafting community is growing and the way people view themselves and the sport is changing. There are clubs and associations in many countries, including Germany, Slovenia, Russia, Norway, Great Britain, New Zealand, the US, and Canada. The American Packrafting Association has begun to develop a curriculum on packrafting-specific paddling, safety, and rescue skills. Organized events, like the French Alps Packrafting Meetup, the European Packrafting Meetup on Slovenia's Soca River, and the Nordic Packrafting Roundup in Sarna, Sweden, as well as informal events, are seeing increased participation. For the last three years, the Durance Fest in France has partnered with manufacturers like Packraft Europe and Mekong Packraft, to offer whitewater packrafting clinics in both French and English. Says French Packraft ambassador Max Clemencon, who helped to organize the first European Packrafting Meetup in Slovenia (2018) and ones in the French Alps, "the goal is to unite the packrafting community, create friendship, improve boating skills, develop a culture of safety in whitewater, and bring awareness to endangered rivers.
Companies around the world have recognized the potential of packrafts. Kokopelli, Jaws, Mekong, Aquadesign's Yupik, NRS's packraft, Aire, Nortik, and Aquaglide, to name a few, are likely just the start of those increasing options. Others will find ways to make more products, from pumps to paddles, as lightweight and durable as possible. "The figures speak for themselves," says Jaws Co-founder Eric Colcombet. "In 2021, we estimate that more than 60,000 packrafts were sold in Europe, with the eastern countries being the main users. Growth will continue in 2022 with the arrival of new players such as Decathlon and Intersport, etc."
Paddlers around the world, from beginners to pros, are confirming what many already knew: packrafts are a great addition to any modern adventurer's arsenal. As packrafts gain popularity, new models and sport-specific features are sure to follow, further refining and developing technology, bringing in new ideas, making the sport more accessible, and furthering protection and advocacy for rivers. As to where to paddle next? As Seon Crockford-Laserer advises, "Lightweight, packable and fun, the only limit is your imagination."