After more than ten years in the business, the Swiss-based Indiana Paddle & Surf company has found its place in the European and global paddlesport industry. We caught up with White Wave AG owner Maurus Strobel to hear more about the brand with the sleek monochromatic designs and their take on the future of boardsports.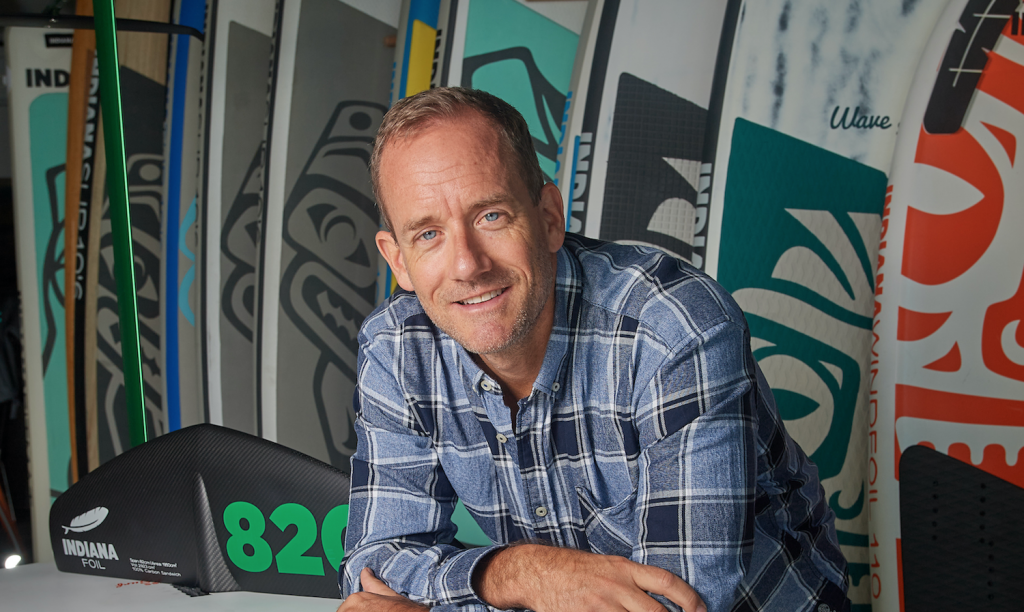 TPSS: Maurus, for those who aren't familiar, what is Indiana Paddle & Surf? How did you get your start?
MS: Indiana Paddle & Surf is an innovative Swiss brand with more than 130 different boards, six employees, and freelancers such as shapers, product, and graphic designers. Indiana is run by my company, White Wave AG. We started as Indiana SUP in 2010 under the slogan "from the street to the ocean." We actually began as a part of Indiana Skateboards, which was founded in 1989 by my ex-partner. My talents have always been on a board; I started skateboarding when I was seven years old, quickly progressing to snowboarding, windsurfing, etc. I was a two-time world champion and four-time European champion in slalom skateboarding, studied physical education at ETH Zürich, and worked in the event communication business for a long time. I've been with Indiana full-time since 2017.
TPSS: Why change your name to Indiana Paddle & Surf?
MS: The name "Indiana SUP" did not cover our product range. So, we changed the brand name and the main brand logo to a longboard inside a feather but maintained specific logos on dedicated products like our Kid's SUP, Indiana SURF, and Indiana FOIL. Our heart is with all our product families. We only produce what we have fun on, SUP, surf, etc. Our primary market is still inflatable SUPs, but wing foiling—both inflatable and composite foil boards—is picking up a lot, especially internationally. We recently invested a lot of energy and money in the development of foils and foil boards; it is by far the most dynamic market today. For Spring 2022, we will have a new range of foils, a high-performance series with six front wings and three carbon masts, etc.
TPSS: You produce both high-quality carbon boards and all levels of inflatable boards. Where would you situate Indiana?
MS: I would say high quality. Our inflatable boards are made out of the best materials available on the market, and our prices start at 899€ for our Family Pack 10'6. We don't offer lower and mid-price models under the Indiana brand. Instead, our B2C-only brand, Apatcha SUP, offers mid-price options.
TPSS: You are known in part for your monochromatic and geometric designs. How important is the aesthetic for you?
MS: Board sports are very aesthetic; it was clear that our products needed to be aesthetically pleasing, too. We began our brand using synergies between skateboarding and stand up paddling and decided to use a similar graphics style. Minimalist designs were very successful in the skateboard market, and we feel our designs honor those roots.
TPSS: After more than a decade in business, you have become a significant player in the European scene. What are the complications of being located in Switzerland? How do you handle overseas exports?
MS: For a few years, we have had a logistical partner with a swiss warehouse near Zurich and a nearby European warehouse in Austria, which is better than Germany in terms of cash flow because we have to pay the VAT later. In general, dealing with the border taxes is very expensive and intense; we have to hire two VAT specialized offices, both in Germany and Austria. As a Swiss company, we have EU EORI and tax numbers, but no legal company in the EU. Same for our new North American business, which has a warehouse near Miami. For USA and Canada, the logistics are even more complex, and shipping needs more time than China-EU. Shipping to the USA or Canada is also costly.
"Board sports are very aesthetic; it was clear that our products needed to be aesthetically pleasing as well."
TPSS: You have developed a market position between the majors and the small startups. Was this intentional? What benefits does your current position bring?
MS: From the customer's perspective, we have to deliver like any major brand, with excellent customer service and availability. But compared to bigger companies, we are faster in developing and producing new products because the volume is smaller. And, we are a bit more driven by heart. We always want to improve and innovate, even if it is more expensive in production. For example, all of inflatables have our SUP 2.0 features, such as a split-finbox, paddle-bag-connecting system, fiberglass foot bases, etc.
TPSS: Have you been impacted by Covid regarding delivery issues, shipping costs, staff shortages, etc.? How have you dealt with these challenges?
MS: Yes, like everyone in this business. Everything got more expensive and slower. Sometimes it was a bit like Tetris, but we were well prepared with full warehouses at the beginning of the 2020 and 2021 seasons, and only a few of our products were late in production. For 2022, we received our first containers before Christmas.
TPSS: What is your impression of the growth the market has experienced in the past few years? Is it here to stay? What is driving it? Where do you see the biggest impact on the SUP or paddlesport industry?
MS: Covid measures have had a major impact on our industry, and many people were pushed towards watersports because fitness clubs and tennis courts, etc., shut down. You also have to account for the weather: When it is sunny in central Europe, people buy SUPs. When it's rainy, nobody does, no matter the discounts. Our 2021 summer reflected the weather in Switzerland, Germany, and Austria. If we have a hot summer in 2022, sales will increase again. Besides, there is nowhere safer than lakes, rivers, and the ocean when it comes to Covid-19.
TPSS: R&D is key at Indiana. Where are your favorite testing grounds?
MS: Foiling expert Gunnar Biniasch develops all the foil board shapes for us on different spots in Fuerteventura. Shaper Andi Widmann works with Engineer Andi Pütz and some of our team riders on boards and foil products on the Lake of Constance. Another very important crew is on Lake Leman, with our Ambassadors Steeve Fleury and Leonard Berner.
"Our heart is with all our product families. We only produce what we have fun on."
TPSS: Any recent innovations or projects in the works you want to share?
MS: We see more and more people taking SUPS on rivers. Therefore, we developed two whitewater boards: a 9'0 and a 10'2 with special and flexible long nose river fins, which attach via four small click-fin-boxes. With the 12'6 Ocean Inflatable Touring board, our customers can finally do downwinders in the ocean on a fast, stable inflatable SUP. Foilers will be pleased by the new high-performance Foil range with X-AR Frontwings with a span of 750-1300 mm.
TPSS: SUP was once presumed to be a short-term trend that would fade away quickly. What is your take on the future of SUP and the future of foiling?
MS: SUP will remain considered a healthy but not risky outdoor sport for a long time. Thanks to better inflatable technology, SUP is and will remain practical and accessible. In terms of elite, top-level events, from racing to surfing, SUP will continue to grow, but this needs a bit more time to develop. Major events, like the world championships, will also depend on the Covid-situation and the work of associations in all countries. SUP will remain the same for most, but we expect to see foiling—especially wing foiling—increase a lot.
TPSS: Your booth was always busy at the Paddle Sports Show this year. Can we expect to see you again?
MS: We drove to Lyon quite relaxed in terms of expectations, but then we were really busy. It surprised us. The visitors were there to do business and not just talk or hang around. The location is amazing, and the organization and communication were excellent. From Zurich, it is only a seven-hour drive with the trailer—we will for sure see you in 2022.