UK-Based, Specialist Manufacturer of Canoes and Kayaks, Pyranha and P&H, raises over £60,000 and counting for The Disasters Emergency Committee to help relief efforts in Ukraine.
Pyranha Mouldings Ltd., who manufacture canoes and kayaks in both Cheshire and Derbyshire, England are a small company with two, world-renowned brands; Pyranha and P&H. Motivated by their relationships with specialist canoe and kayak retailers in Ukraine, Pyranha and P&H recently launched a fundraiser to support relief efforts in the country, receiving a humbling response.
In just two days, Pyranha and P&H have successfully raised over £60,000 through producing a limited number of their market leading kayak models, the P&H Virgo and Pyranha Scorch, in a custom Blue/Yellow colourway to match the Ukrainian flag in solidarity with the nation, which has been unjustly invaded by Russian forces. 100% of the revenue from this special production run will be donated to The Disasters Emergency Committee, which brings together 15 leading UK aid charities, raising funds to quickly and effectively respond to overseas disasters such as that in Ukraine.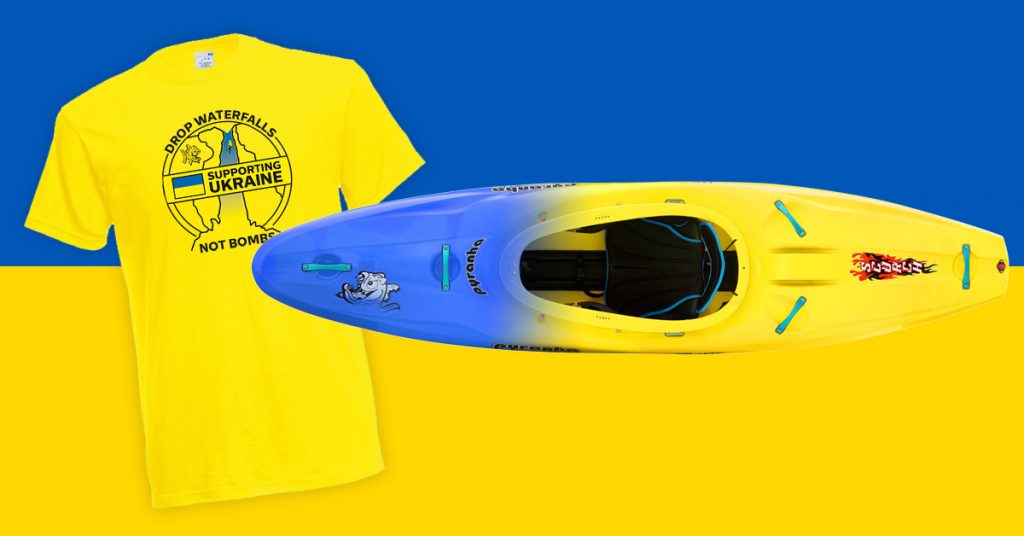 Managing Director, Graham Mackereth says of the situation, "We are lucky to live in a stable and peaceful democracy, whilst millions live with the harsh reality of the many dreadful wars around the world. This war in Europe, in an area where some of our staff come from, where our customers are being bombed, brings that reality far too close to home."
This effort has been made possible by a number of Pyranha and P&H's staff donating their time, as well as coordination with their suppliers and fellow North West based companies, Stirling Moulded Composites, Gordon Products, and Resinex, who have donated materials to produce these kayaks. Pyranha and P&H's worldwide network of dealers have also contributed their time and logistical support to make these limited edition 'Flag of Ukraine' kayaks available to consumers as far as New Zealand and North America.

In addition, Pyranha and P&H are raising funds through pre-orders of two, limited edition t-shirt designs bearing the slogans 'Launch Kayaks, Not Missiles', and 'Drop Waterfalls, Not Bombs', as well as raffling off several 'Flag of Ukraine' kayaks. Their hope is to ultimately raise more than £120,000 for the cause, and it is a true showing of the far-reaching community spirit amongst paddlesports enthusiasts that they are already over halfway towards this goal after two days.
If you'd like to contribute to the fundraiser, limited edition 'Flag of Ukraine' t-shirts and kayaks are available to purchase at pyranha.com