Why it's time for the industry to embrace adaptive paddling
Rather than focusing on the limitations of those with disabilities, it's time for the industry to take note of their ability to participate in paddlesports.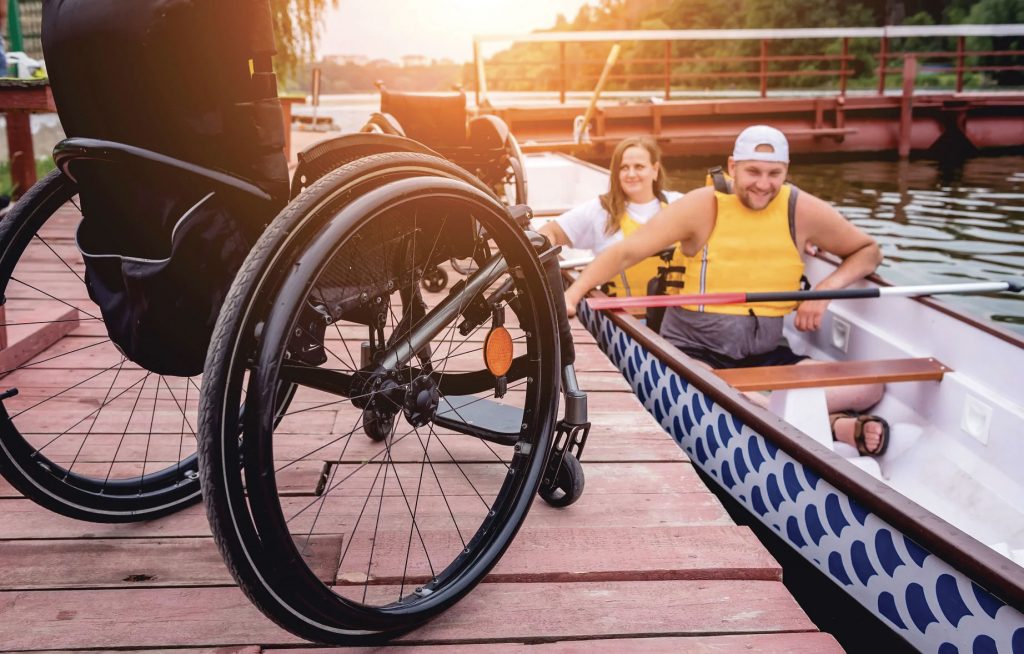 In 2016, paracanoeing debuted at the Paralympic Game in Rio de Janeiro, Brazil, putting an international spotlight on the benefits of getting people with disabilities out on the water. Including a Va'a class, a Polynesian-style outrigger canoe, in the 2021 Tokyo Paralympic Games signifies a broader trend: the paddlesport industry is on board to promote and grow adaptive paddlesports. It's about time.
Though the physical and mental benefits of spending time on the water are well documented, disabled paddlers have been largely neglected by the paddlesport community. These are not small numbers. According to the UN, at least one billion people worldwide have a disability, with control of $1 trillion in annual income. Even a portion of those resources could have long-lasting benefits for our community and environment. If we want to continue growing adaptive paddlesports—and we do—we need to focus on developing gear, public perception, and access to the outdoors.
Adaptive Gear
26% of people will be affected by disability at some point. Many suffer from arthritis, joint injuries, and other health problems. Adaptive equipment helps them enjoy getting out on the water, too, reminds Bending Branches in a blog post titled "Adaptive Kayaking and Canoeing Get More People on the Water."
"For me paddling is freedom. Freedom to exercise or explore in the same way an able-bodied person would," says adaptive athlete and ICF athlete representative Patrick O'Leary. "I can paddle in a group trading washes and unless people know me they have no idea whats different."
The natural stability of paddle craft has largely left adapting gear up to individuals. However, as more disabled paddlers join the ranks, products designed to take the needs of disabled users into account from the start are increasing, such as the Do Sport Trident Ability Board, seen at the 2022 Paddle Sports Show. The Trident Ability Board combines the stability of catamarans and outriggers with the accessibility of paddleboards in a wheelchair-friendly design that accommodates two people, one seated and one standing.
"Society is moving toward a more inclusive view of itself, where all persons of varying abilities can contribute"
The ama, or float, used to stabilize outrigger canoes is a highly adaptable and cost-effective way to make paddlesports safer for people with paralysis, spinal cord injuries, or limited coordination. Smaller-scale adaptation can be equally impactful: High-visibility tape or paint on paddles benefits the visually impaired, and mount-supported paddles or grip aids can make paddling more accessible and enjoyable.
Perception & Education
While adaptive equipment helps facilitate an entry point into paddlesports, public perception of disabilities is an ongoing challenge. "Perception is always an issue. People with mobility issues can be perceived as at risk around water," explains O'Leary, who is an amputee of the leg. "Careful thought is always needed but in most cases a safe method of paddling is available."
ICF Vice President Lluis Rabaneda views perception as a key area where organizations and federations can make a difference. "Awareness is the key hurdle to overcome. We need to continue educating every level of the paddling communities and give the tools to have an easy inclusion of the adaptive paddlers."
Numerous educational resources on adaptive paddling exist, shared through private organizations and national and international federations. British Canoeing, which uses the term Paddle-Ability to refer to all paddlesport activities for disabled people, lists information on "Paddle-Ability" approved programs training, access, and clubs on their website. They remind us that while working with those with knowledge and experience in adaptive-specific paddling strategies is hugely helpful, much can be gained by including adaptive paddling activities in the primary sector rather than separating them.
"Society is moving toward a more inclusive view of itself, where all persons of varying abilities can contribute," says Rabaneda. He continues, "Paddlesports and the paddlesport industry needs to see itself as an active participant in this movement. This means working to increase participation across different channels such as tourism, club, elite levels, or during rehabilitation."
Access to water
Increasing participation across any channel relies heavily on access to water and outdoor spaces, a significant challenge many non-disabled people have never considered. We should, as accommodations that build universal outdoor access, such as boat ramps or improved signage, benefit the entire paddlesport community. Supporting existing initiatives to improve water access is maybe the best place to start concentrating efforts to make paddlesports more accessible.
"Not only are experiences in nature crucial for all human beings, it doesn't take that much to make days on the water possible, says Canadian-based organization Access Revolution Founder Jordan Kertan. Through Access Revolution, Kertan, a recreational therapist, promotes and sells products that improve experiences on and access to the water. She continues, "It takes innovative equipment, a community that supports the vision and the dream to make it happen, and participants who are keen to get outside and enjoy nature together."