This serie of articles, called "NEW @ The Paddle Sports Show 2021" showcases the products that are competing for the « PADDLE SPORTS PRODUCTS OF THE YEAR AWARDS »
Entry for Fishing, Triken by BIG MAMA KAYAK

A project started in May 2019, strongly supported by Luigi Bottini, owner of Big Mama Kayak, and Claudio Campioni, our designer who took care of all the aesthetic and technical aspects.

"We strongly believe in the made in Italy product and with Triken we have reached the number of 5 molds that allows us to produce the most successful models of our range in Italy."

A pedal model with propeller system.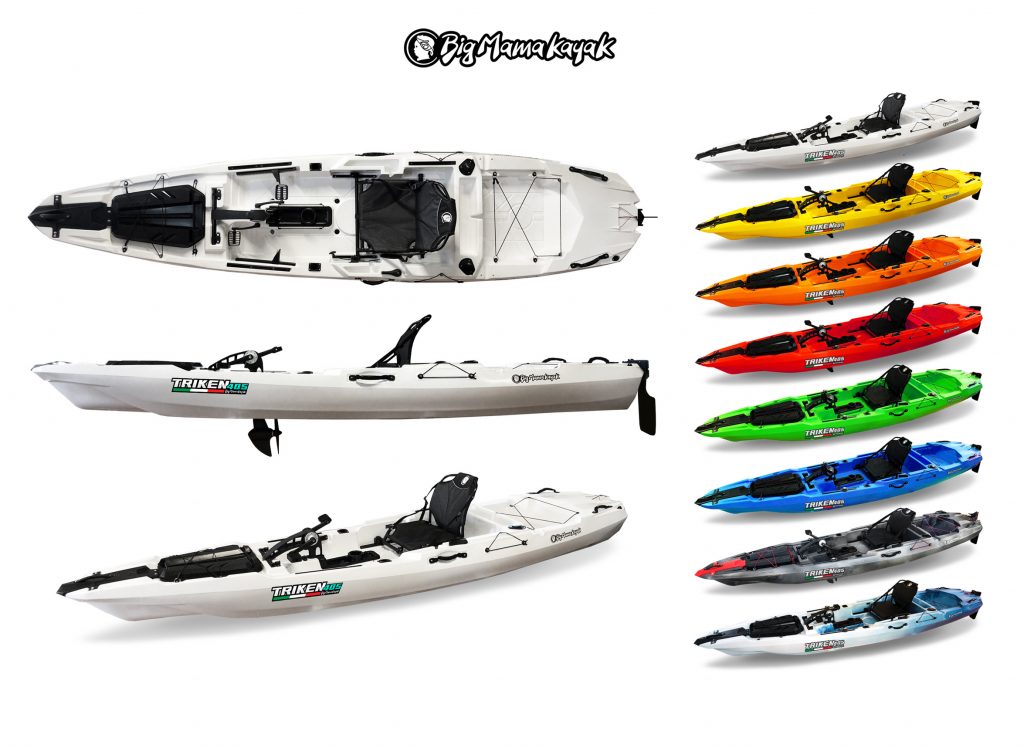 "Why a propeller? Why not fins? Because the propeller allows you to go both forward and backward, moreover the propeller speed is greater than the fins making the pedaling movement mentally more natural for the user.

A 405 cm long kayak with a "trimaran" keel and a very "sharp" bow to maximize sailing speed.

"We have thought of an extremely stable product, with a length / width ratio that would guarantee the user the possibility of standing safely and using a very reliable kayak, thanks to the TRIKEN hull which – mind you – is not alone. the name of the kayak, but the name we wanted to give to this particular shape of the hull."

Maximum "ALL INCLUSIVE" equipment

"The Triken is delivered with 4 internal rod holders and 2 adjustable rod holders. Watertight front compartment, with the possibility of transforming into a livewell that can contain up to 16 liters of water with the optional possibility of adding the pump for oxygenating the water."

Aluminum seat with adjustable backrest, mounted on sliding sleds for adaptation to different heights and adjustable footrests that allow you to move the person's center of gravity.

(Thanks to the supplied footrests, the Triken offers the possibility of using the kayak with a paddle, without mounting the pedal system)

Installation of the "PLUG & PLAY" pedals, they can be assembled and disassembled in a few seconds.

"On the Triken we thought about the user who will go out with the kayak for hours and hours, a user who needs space to store objects that are also within reach, for this reason there are 2 side storage compartments and an easily accessible rear tub carrying the arm behind your back. In addition, the rear storage compartment, very large, allows the housing for the transport wheels supplied."

Vertical rudder with large blade. which guarantees a lot of grip on the water flow, manageable with the left side control.

Paddle holder and rod holders on both right and left side.

5 handles to facilitate lifting of the pedal system with multiplier (each 360 ° pedaling revolution corresponds to 10 propeller turns)

On the Triken there are 58 brass bushings drowned in polyethylene, with a drag resistance of 200 kg each, all the bolts are in stainless steel.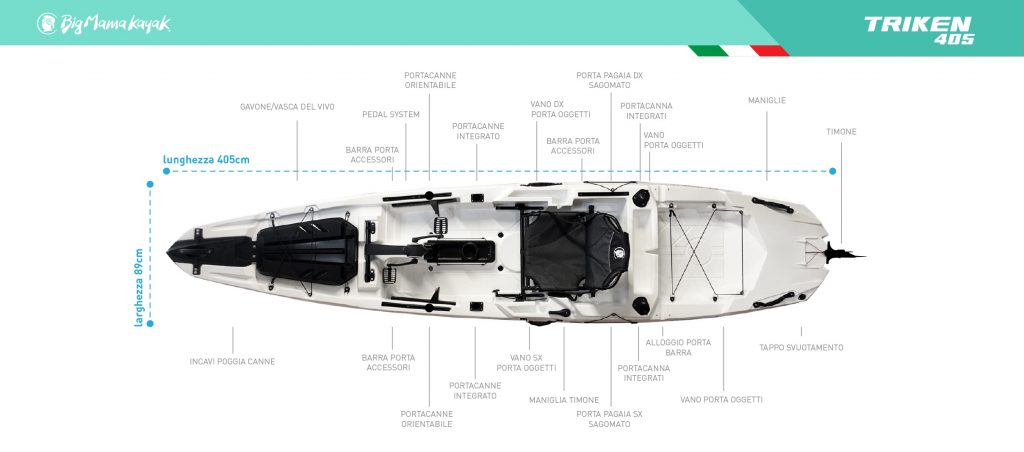 TECHNICAL FEATURES:

LENGTH 405 CM
WIDTH 89 CM
WEIGHT 40 KG +/-
USER CAPACITY: 150 KG
KEEL IN TRIMARANO
NON-SLIP DECK SPACE.
FRONT LOCKER: YES
SIDE STORAGE COMPARTMENTS: 2
REAR STORAGE COMPARTMENT
TRACKS: RAIL MOUNT (suitable for mounting Railblaza accessories)
HANDLES: 5
EMPTYING PLUGS: 8
INSPECTION LOCKERS: 1
RUDDER: VERTICAL
RUDDER CONTROL: LEVER
More info on the BIG MAMA KAYAKS WEBSITE
This serie of articles, called "NEW @ The Paddle Sports Show 2021" showcases the products that are competing for the « PADDLE SPORTS PRODUCTS OF THE YEAR AWARDS »
It is produced & organized by KS Publishing (publishers of Kayak Session, Paddle World and Sup World magazine).
The Paddle Sports Show, is the world's largest paddlesport-specific trade show ('trade show' meaning entrance is reserved for professionals) highlighting what the general public will find on shelves and in stores in 2022. It includes everything from kayaks and canoes to stand-up paddle boards and inflatables, with the apparel and accessories needed for it all. See the product and meet the manufacturer at The Paddle Sports Show 2021 in Lyon (France) > www.thepaddlesportshow.com