This serie of articles, called "NEW @ The Paddle Sports Show 2021" showcases the products that are competing for the « PADDLE SPORTS PRODUCTS OF THE YEAR AWARDS »
Entry for SEA KAYAKING – PEDAYAK by L'AQUAPHILE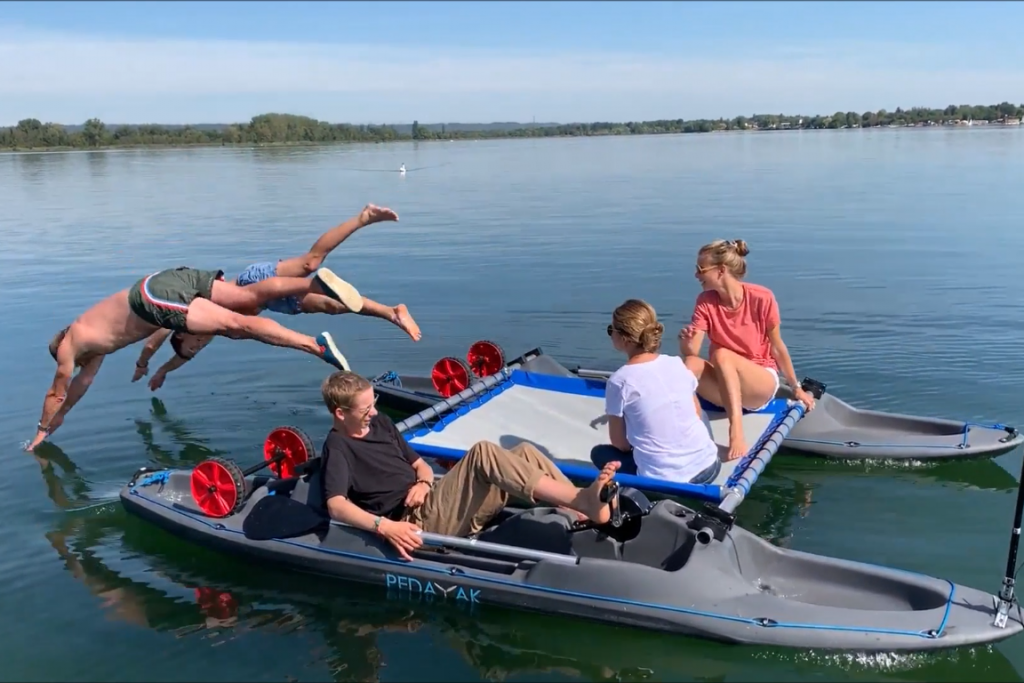 PEDAYAK is an elaborate version of a "sit-on-top" kayak.
While on a restricted space, it has the same systems than a real boat:
A high-performance propeller propulsion drive, easy and powerful.
A smooth and precise steering system with rudder and helm, monitored by a simple stick. Their combination (the rudder is located just behind the propeller) allows manoeuvrability and a surprising agility on this type of boat. Rigged with a sail, it becomes a real small boat, powered by both sail and "motor", with amazing performances. It can be combined in 16 different versions: ELECTRIC (electric propulsion), SAIL, TRIO, DUO, PRAO.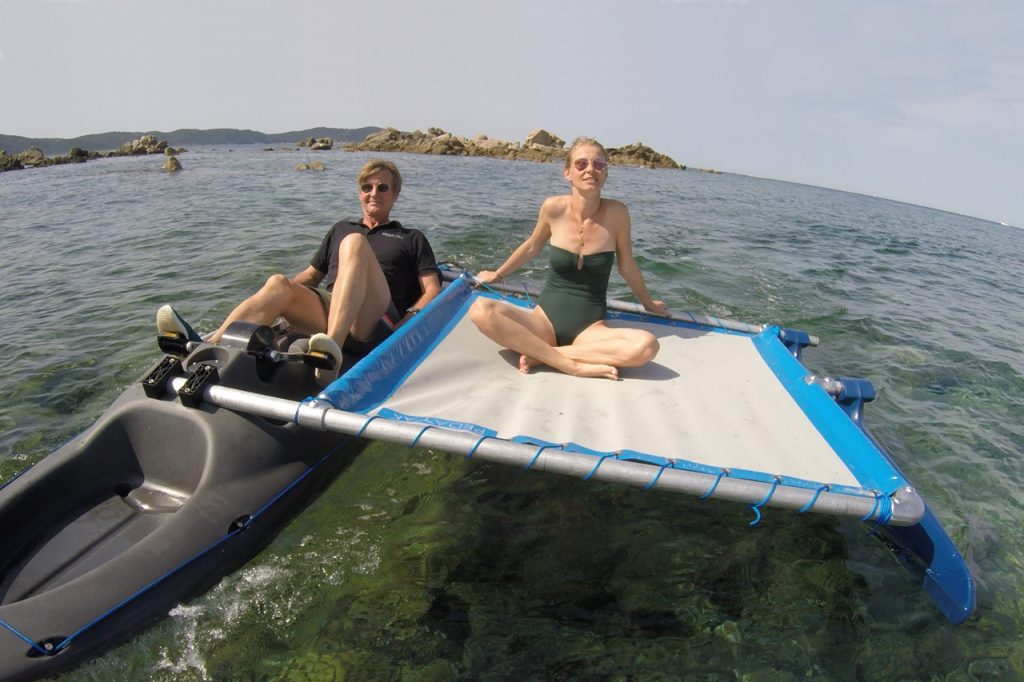 KEY ADVANTAGES:
Speedy: 50% faster than an equivalent regular kayak.
« Hands free »: Allows activities such as strolling, sailing, fishing, photo, video, phoning, binoculars, etc.
Can beach (the propeller and rudder are protected by 2 keels), go into very shallow waters (35 cm draught), immediately go backwards by retropedalling, manoeuvring, agile, turns on the spot.
Can possibly accommodate an additional light passenger, less than 60 kg.
Stable and unsinkable. Very good behaviour at sea. Silent.
Comfortable with its ergonomic backrest.
Storage compartments for GPS, bottle and cans, pockets, front and rear storage bins.
Accessible to disabled people.
Rigged with a sail, it sails under all wind conditions, including upwind, thanks to its keels.
In PEDAYAK TRIO, DUO or PRAO versions, it can be mounted in trimaran or catamaran, with an intermediate removable structure, allowing sunbathing, taking children, or bringing diving or bivouac equipment, etc.
Modularity: All versions: TRIO, DUO, PRAO, ELECTRIC, SAIL can be combined with each other.
More than 10 accessories available for fishing, sailing, exploring, raid, tourism.
More info on the AQUAPHILE WEBSITE
This serie of articles, called "NEW @ The Paddle Sports Show 2021" showcases the products that are competing for the « PADDLE SPORTS PRODUCTS OF THE YEAR AWARDS »
It is produced & organized by KS Publishing (publishers of Kayak Session, Paddle World and Sup World magazine).
The Paddle Sports Show, is the world's largest paddlesport-specific trade show ('trade show' meaning entrance is reserved for professionals) highlighting what the general public will find on shelves and in stores in 2022. It includes everything from kayaks and canoes to stand-up paddle boards and inflatables, with the apparel and accessories needed for it all. See the product and meet the manufacturer at The Paddle Sports Show 2021 in Lyon (France) > www.thepaddlesportshow.com