This serie of articles, called "NEW @ The Paddle Sports Show 2022" showcases the products that are competing for the « PADDLE SPORTS PRODUCTS OF THE YEAR AWARDS »
Entry for accessoires – I sup, Shark II the NR 1 electric sup pump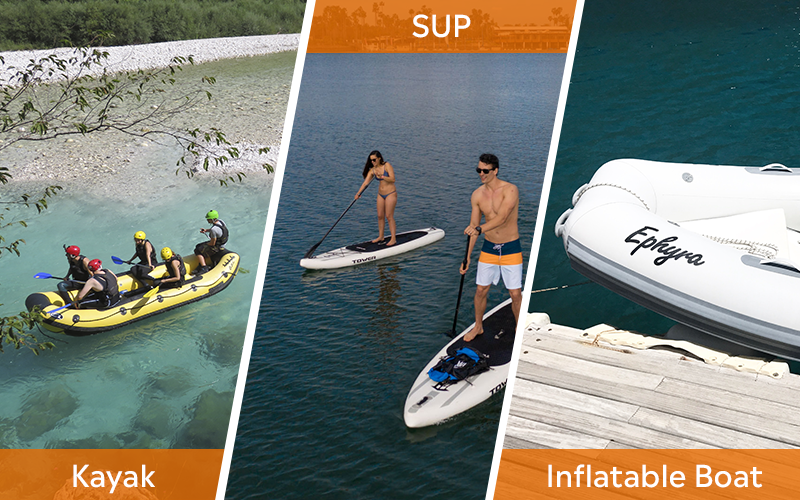 SHARK II THE NR 1 ELECTRIC SUP PUMP OF THIS MOMENT
1. SUPER SPEED
Skip the wait time and get right to the fun! The Shark II uses state of the art en- gineering designed with speed and efficiency in mind to inflate your SUP board or any other inflatable at a rapid pace while maintaining optimum pressure.
2. SHARK COOLING SYSTEM
Filling up to 3 paddleboards. Patented interior design with unique FACS pre- vents your Shark II from overheating, especially on a hot day at the beach.

3. COMPLETE ADAPTABILITY
Simply plug your Shark II into your car's 12V DC connector and you're ready to inflate. Choose a nozzle from our com- plete provided set to inflate almost any high-pressure inflatable, including Ad- vanced Element, Atoll, Dynamo, Fanatic, Hero, Hydro-Force, iRocker, Nixy, Peak, Redpaddle, ROC, Thurso and other ma- jor iSUP board brands.
4. MAKE DEFLATION SIMPLER
Once you return from tackling the water, deflation is easy – set it to deflate and the air will be vacuumed out under 1 minute and ready to pack!
5. VARIETY IN USE
It's a match! Your Shark II is compatible with almost any iSUP board, boat, or kayak, so you only need one pump for all of your inflatables.
6. ECO-FRIENDLY & CAREFULLY TESTED

The Shark II has passed multiple efficiency tests with CA65, CE and RoHS compliant certifications, as well as partnerships with SUPIA, Paddle 2 The People, and WEEE, making it the ultimate air pump endorsed by the biggest industry leaders.
7. LIGHT AND COMPACT DESIGN
The Shark II is a perfect companion for any adventure. Its lightweight and com- pact design allow it to easily fit in any backpack or paddleboard bag. No more lugging bulky equipment around!
8. AUTOMATIC POWER OFF
Thanks to the 0.01 PSI precision of the built-in sensors, the pump au- tomatically stops inflating when the PSI or Bar set by you is reached.

SPECIFICATIONS
SUPPORTED PRESSURE RANGE
0,5-20 psi (0,034-1,378 bar)
DIGITAL SENSOR ACCURACY
0,01 psi
INFLATION AUTO-OFF FUNCTION
Max Pumping Speed: 350L/min at 1st Stage, 70L/min at 2nd stage ;
Dual Inflators Switch Point: 1 PSI
BUILT-IN SAND FILTER
Max Energy Consumption: 10A, 120W (12V): DC Power Cord Length: 9ft (2.75m): 4.5ft Hose: Net Weight: 3.6 Lbs
NOZZLES SPECS
1 x C7, 1 x H3, 1 x Cone-shaped – Diamter 0.28inch / 7.3mm at opening, Round – Diameter 0.67inch / 17mm at opening
PACKAGE INCLUDES
1 x OutdoorMaster THE SHARK, 1 x 4.5ft Hose, 3 x Nozzles, 3 x Gaskets, 1 x Manual
for more info about I SUP