This serie of articles, called "NEW @ The Paddle Sports Show 2022" showcases the products that are competing for the « PADDLE SPORTS PRODUCTS OF THE YEAR AWARDS »
Entry for Canoeing – GATZ , YAQUI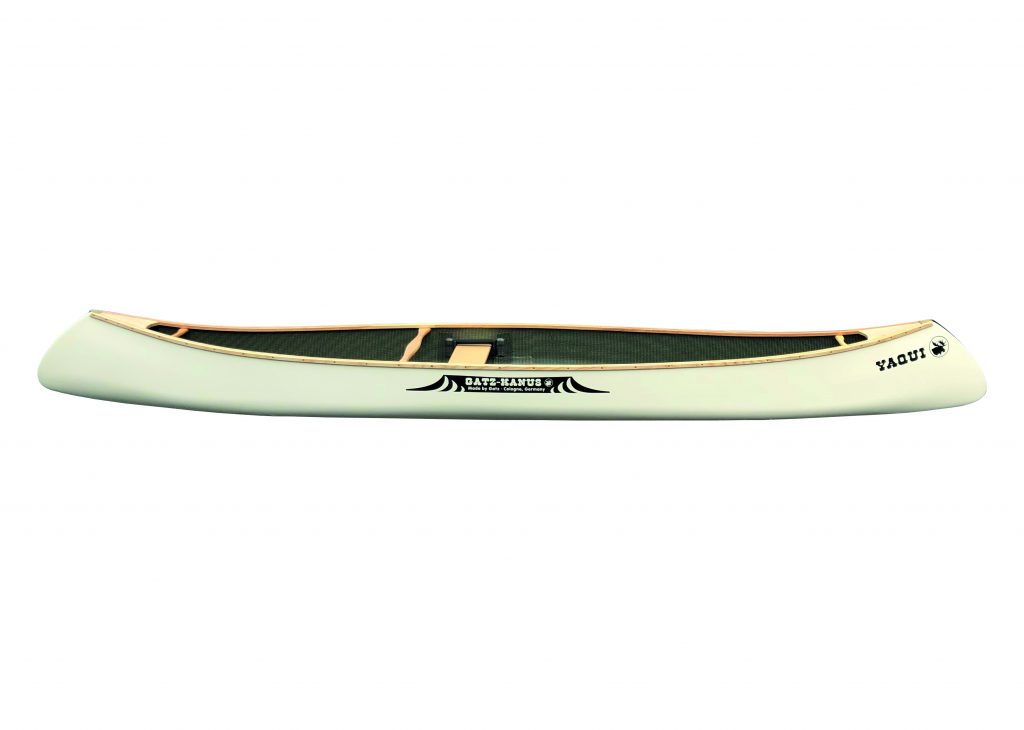 We will bring a Gatz-made-canoe, The YAQUI with wooden gunnels in Carbon Ultralight construction to the show and would like to have it listed.
———————–
Why? Well in 2022 we look back at 60 years of continuous canoe production and development and the YAQUI is a very popular Solo Canoe.
We will show that the YAQUI can not only be a perfect tool for the canoe enthusiast who wants to keep up with tandem canoes but as well can easily be converted into a boat which can be paddled in comfort with a kayak paddle, thus allowing to spread the user base of this sleek and fast hull to all types of paddlers. The canoe on the show will have both seat options to show.
Not only is the YAQUI in Carbon Ultralight a light beauty at about 17kgs allowing easy handling on land as well, the Yaqui is also something to look at in regards of sustainability. As at GATZ we are paddlers since decades and know the importance to protect our environments we not only focus on this in production. We try to make some of the longest lasting canoes in the industry using highest quality materials and well trained staff.
Looking at the YAQUI we have a composite hull of about 10kg associated with wooden parts from FSC ash wood mostly bought in local forests, cut at a local sawmill and dried naturally at the Gatz factory. The whole canoe is made in Cologne (Koeln) Germany so there is no ship, plane or road transport until the customer picks it up or has it shipped.
The composite hull will, with proper use last more than 4 decades, in the end might have created an annual waste of 250 Gramms. Compared to the annual amount of 36kg of single use plastic waste per person in France (not putting in account all other plastic related items like shoe soles, parts for cars, toys etc.), this is about nothing compared to the experience of nature which in return helps to focus back on our environment.
As well I would like to note that the YAQUI is a canoe for all ages. We have seen growing up youths as well as people of age buying it. Just now a 94 year old man is eager to pick up his Carbon YAQUI at the weekend for some nice late summer and fall canoe trips. And even if this sounds very very unusual, the oldest customer last year for this model was 95…
We like to see that our great sport is ageless!
Technical: Length 455cm, Width 75cm, weight starting at 17kg, various seat and colour options, slightly round (shallow arch) bottom, straight hull with almost no rocker.