This serie of articles, called "NEW @ The Paddle Sports Show 2022" showcases the products that are competing for the « PADDLE SPORTS PRODUCTS OF THE YEAR AWARDS »
Entry for INOVATION AWARD – COASTO, E-motion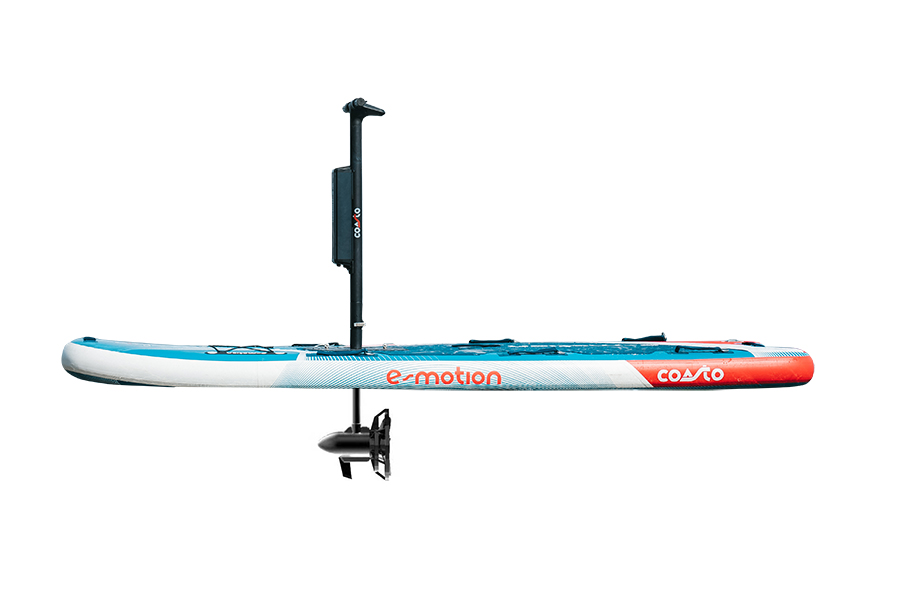 For 2022, the French high-end water sports brand, COASTO, introduces its latest innovation to its collection with an inflatable stand-up-paddle integrating an electric motor.
With the E-motion, even the most distant coast becomes accessible: discover unexplored shores with ease, simplicity and in all safety.
A unique concept that will appeal to all generations and levels, from beginner to advanced. The E-MOTION is the result of Coasto's bold creations: a motorised inflatable Stand-Up Paddle.
This approach is in line with today's innovation trend in board sports on water, which are increasingly turning to electric technology as a means of propulsion, such the electric scooter.
The E-motion has a motor with an autonomy of 1h30 and a removable battery.
With a length of more than 3 metres (9'8") and a width of more than a metre (3'3"), this Stand-Up Paddle features exceptional stability. The E-MOTION benefits from the same technologies as all Coasto inflatable Stand-Up Paddles – Dropstitch and Double Layer Fusion – for unrivalled buoyancy. For maximum safety, the E-MOTION is powered by a rechargeable electric battery giving you a 90-minute ride at a maximum speed of 6 km per hour.
A 180-minute battery is available as an option. The handlebars are equipped with cruise control and forward/reverse functionality, offering great manoeuvrability.
In the event of a fall, the E-motion is also equipped with a magnetic circuit breaker for safe navigation.
The entire surface is covered with a non-slip EVA mat.
9 reinforced neoprene handles have been placed along the board and in the centre. Enjoy the advantages of an easy grip and better safety, and attach a paddle. The E-MOTION features a 180kg maximum load capacity, to ride alone or with a partner.
It is the ideal ally for an outing on a lake, to marvel on turquoise waters around creeks and coves, or to simply go at one's own pace.
For added comfort and convenience, the E-motion comes with a carry bag on wheels that fits the stand-up-paddle and a separate case, also on wheels, for the motorised system!
A twin-action manual inflation pump is included, as well as a safety leash, removable fin, and paddle. With handy front cargo strap, take a picnic lunch along.
About Coasto
Coasto specialises in high-end stand-up-paddles. The brand offers a range of inflatable SUPs as well as various water leisure equipment aimed at the seasoned and experienced person in water glide sports as well as the beginner who wishes to learn to this activity professionally.
Since its creation in 2017, the Coasto brand has made constant progress to remain at the forefront of technology and improve the comfort of its users. The close collaboration between board enthusiasts and experts in their field, engineers as well as technicians and high-level sportsmen has given birth to numerous innovations and ingenious ideas to meet market's demand and offer products that are increasingly modern, light, rigid and durable.
The latest innovation from the brand is the E-motion, an inflatable electric stand-up paddle that allows you to navigate without having to paddle.
Coasto is a brand of the Poolstar Group, designer and manufacturer of innovative products in the Pool & Garden, Relaxation & Wellness, and Sport & Leisure sectors.
Price: € 1,799 (VAT incl.) (with 90 min battery included)
for more info about COASTO