The Hobie name has long been synonymous with water sports, bringing to mind bright California beaches and sun-kissed surfing or sailing enthusiasts. With the advent of the MirageDrive, a pedal propulsion system, Hobie burst into the paddlesports market in the late '90s and soon became a major player and influence. We caught up with Gero Priebe, Hobie Kayak Europe Sales and Marketing Manager, to learn more about this iconic brand and its goals for the future.
PGM: Paddlers Guide Mag: Gero, the name Hobie is iconic, nearly synonymous with watersports. Hobie is a surfing brand, a sailing brand, a kayaking brand. What is the driving force behind it all?
Gero Priebe: I am glad you reference Hobie as a surfing brand. Our founder, Hobie Alter, modeled everything the surf lifestyle and watersport industry stands for today—having a great time in, on, and around the water. Hobie's roots lie in surfing and waterman culture; this helped strengthen our sailing brand, and is now doing the same for kayaking. Everyone at Hobie believes in our authentic, grassroots culture. We do what we love, and we love what we do. From surfboards and world-class catamarans to revolutionary pedal kayaks and stand-up paddleboards, Hobie is driven by a passion for delivering the most advanced, enjoyable, and accessible watersport products available
PGM: What role do paddlesports play in Hobie's income and strategy? 
GP: Paddlesports represent over 90% of Hobie's business these days. Our MirageDrive pedal system redefined kayaking and made Hobie the leader in high-end pedal kayaks, shifting our identity from a surf and sailing company to a major kayak manufacturer. The booming paddle sports sector and the fast-growing market for light, car top-able boats will weigh majorly in Hobie's strategy and identity moving forward. We're as driven as ever to bring something new to the paddle sports market, which has always been our goal.
PGM: Is Hobie Kayak Europe a subsidiary or an importer?  
GP: Hobie Kayak Europe has always been an independent distributor/importer of Hobie's kayak range in Europe. Last year in November, Hobie Kayak Europe was sold to Hobie Cat Company. Since then, we have been a full subsidiary and cover the entire Hobie kayak product range, minus the sailboats. This has been an important step for Hobie in Europe. Combining the whole product range – kayak, paddleboarding, surf, fishing – under one roof bolsters Hobie's strategy to be the leading supplier of watersport equipment and the number one lifestyle brand in Europe while providing a clear and consistent identity for the Hobie brand in Europe and beyond.
PGM: What has been your experience during the whirlwind our industry has seen in the past few years? What do you anticipate for the future?
GP: The trend and rise of interest in solo outdoor activities, such as paddle sports, fishing, camping, etc., started before the first Covid restrictions were introduced. Luckily, our industry took advantage of the crisis, which gave – and this wasn't anticipated initially —the development of an outdoor lifestyle and solo outdoor sports the final nudge. The industry has witnessed a rise in demand for our products and lifestyle. We all want to get out kayaking, fishing, and sailing and make great memories. This won't change. Yes, the surge of consumer interest shows signs of cooling down, and next year might be difficult for our industry, given the energy crisis and geopolitical situation. However, demand is still higher than it was before the pandemic. That will not disappear. I am, therefore, very optimistic about the prospects for our industry.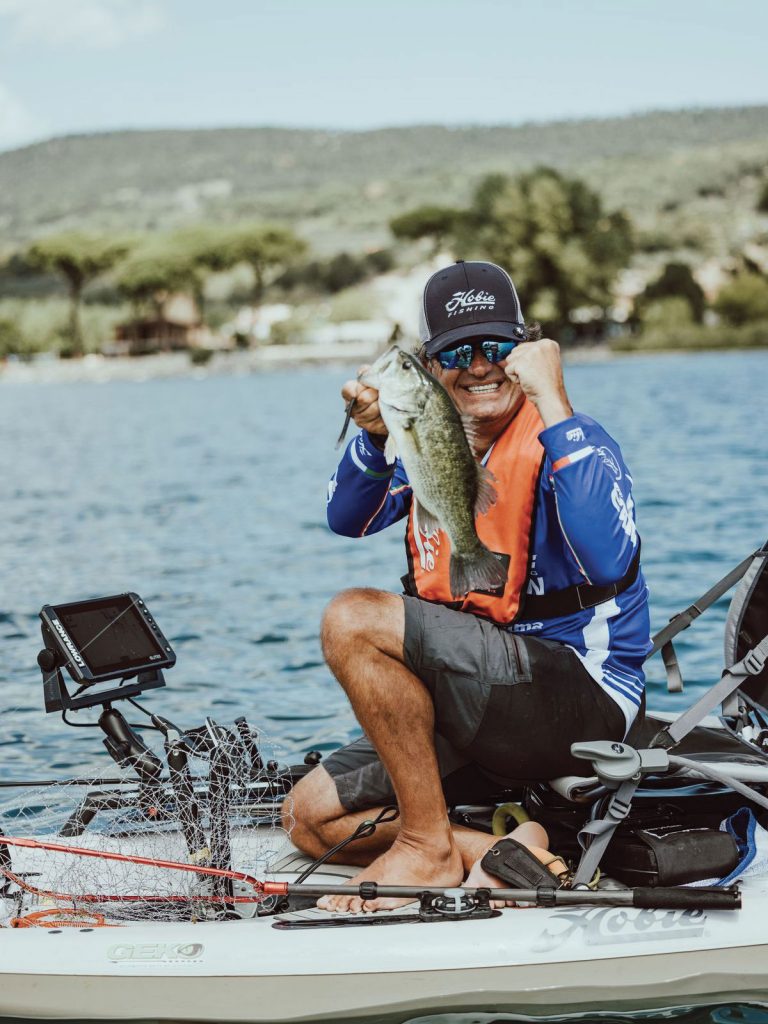 "Only a brick and mortar retail store can convince this customer to make a better choice."
PGM: What are Hobie's market shares in paddlesports on the world and European levels?   
GP: ithout diving too deep here, Hobie has the world's number one-selling fishing kayak, which is still the Hobie Mirage Outback. With the Outback and our MirageDrive, we have dominated the kayak fishing industry for 20 years, a growing, fresh new sector within paddlesports.
PGM: Hobie has found success in the high-end side of the market and in welcoming newcomers. What's the secret recipe? Added value products, comfortable margins, great user experience? 
GP: There are many reasons for success, and I agree with all the ingredients you mention. However, our passion and customer experience are by far the most important. For any product that Hobie creates, the people who create it want it for themselves. The engineers working on new product designs and updates make them for themselves and continue developing products by using them. That is true across every Hobie product category, but it has an especially big role in kayak fishing. Take the MirageDrive, Hobie's hands-free pedal drive. It was first introduced in 1997 and has undergone several rounds of refining to meet the needs of Hobie customers better.
PGM: Tell us more about the Mirage iEclipse, which you unveiled this year at the Paddle Sports Show 
GP: The original hardboard Eclipse was the world's first and favorite stand-up pedalboard and a prime example of Hobie's ability to innovate new ways to enjoy the water. The Eclipse was a big hit with those who enjoy exercising outside and rentals looking to offer guests a unique experience. The new iEclipse, our inflatable version, offers remarkable rigidity and the same performance as the Eclipse in an ultra-lightweight and portable package that can fit in the trunk of a small car. Of course, the new hardboard version weighs only 20 kg (44 lb) and is also easy to transport.
PGM: How do you manage copycat products coming from Asian manufacturers? Is there anything to be done besides innovating anew 
GP: Innovation will keep us ahead of the copycats. We are aware of their existence, but fortunately, things are not to the point where we view them as competition in Europe. I have never talked to a customer who said they bought a copy and were happy with it. It is always, "I wish I bought the real deal." This customer may still purchase a Hobie and experience a pedal system as it should be. I am concerned about those who have negative experiences with a non–performing pedal system and decided against kayaking as a result. We have to meet with dealers, talk to potential new customers and get them into our boats, or at least give them the option to try. E-Commerce only does not help here. Only a brick-and-mortar retail store can convince customers to make a better choice. .
PGM: Kayak fishing is gaining popularity in Europe, and Hobie has played a big part in this. What significant differences do you see between the US and the European markets? 
GP: Kayak fishing models and trends in Europe are the same as those in the US but run a few years behind. Where there was a higher interest in smaller kayaks a few years ago in Europe, we are now seeing a growing demand for bigger kayaks, such as our flagship, the Hobie Mirage Pro Angler 14 – 360. I am positive that we will reach a similar level here in Europe sometime in the future.
"The booming paddle sports sector and the fast growing market for light, car top-able boats is clearly the major players for Hobie's strategy moving forward."
PGM: You have taken a very active role in the development of Kayak Fishing in Europe through the sponsorship of events and the creation of a global tournament series. 
GP: Tournament fishing has become a very serious part of the sport and is absolutely helping to grow the business. Over the years, we have established a highly reputed tournament system spanning the globe that became the blueprint for events in Europe and other parts of the world. Most rounds end up in the Hobie Fishing Worlds, held first in Australia in 2011, with nine two-man teams representing the US, Singapore, Thailand, South Korea, and Australia. In 2012, the Worlds moved to Texas, and twice as many contenders took part, including a European team (which included me). In 2022, the Hobie Fishing Worlds 9 returned to Amal, Sweden, with 42 anglers representing 18 countries. All the anglers qualified via local events across the globe. One of the biggest qualifying rounds in Europe is our company-sponsored (along with our partners in fishing) Hobie Fishing European Championships. Since 2014, we have hosted events in different European countries: France, the Netherlands, Italy, Sweden, and even Serbia.
PWM: How does the tournament work? Is it entirely run by Hobie?
GP: Kayak anglers from all over Europe compete in the European Kayak Fishing Tournament, a Catch-Photograph-Release format, to be crowned European Champion. The angler with the largest total length wins. Scoring has become easy over the years. Instead of digital cameras and paper, anglers now use a tournament scoring app that provides a live leaderboard, letting anyone interested follow the event and tournament scoring live. It takes a lot of effort, passion, and a well-connected global team to organize events of this magnitude. Our dealers and local partners put a lot of hard work and effort into events during the season to help put kayak tournament fishing on the map.
PGM: What strategy can we expect Hobie to take in 2023/24? Will you continue to lead the charge, bringing new products and ensuring you are ready when demand increases? 
GP: We need to promote our sport to a wider public as a sustainable way of spending time outdoors and living a healthy lifestyle. It's a cool sport, and we all do well to focus on the actual experience of paddling, fishing, pedaling, and kayaking. Getting more people to have a great time in on and around the water with Hobie. That's the main goal for 2023/24!