"The Australian Ocean Racing Series has been unveiled for 2021 and it boasts events and sponsorship like never before.​"
The Shaw and Partners Australian Ocean Racing Series is set to reach meteoric new heights, with at least $350,000 in prizemoney to be contested across each of the next three years.
It's a staggering commitment from the naming rights sponsors, who have already delivered the funding to ensure stability through the challenges posed by COVID-19.
"It's just great," Earl Evans, co-CEO of Shaw and Partners says. "We've just done it because we love the sport."
"It's just absolutely awesome, quite frankly.
"I love the joy of paddling and the people involved, the national presence of the sport and also the way in which it's growing."
After COVID-19 restrictions caused the cancellation of last year's series, organisers have tonight unveiled a new, expanded calendar made up of 16 events.
It's another step forward for the AORS, pushing through an ever-changing pandemic landscape.
"It's been a big mission all year, but if we can get a clean year out, then it looks really bright." AORS director Dean Gardiner says.
"We have some fantastic event organisers around the country involved.
"We only look after 6 or 7 of the events, the rest is from a great bunch of people.
"There's still a lot of uncertainty around, but we're just hoping we can see the year out and have a clean series with no border issues.
"I'm cautiously excited. How does that sound?"
The series will again use a three-tier system to rate events.
The full draft schedule is as follows: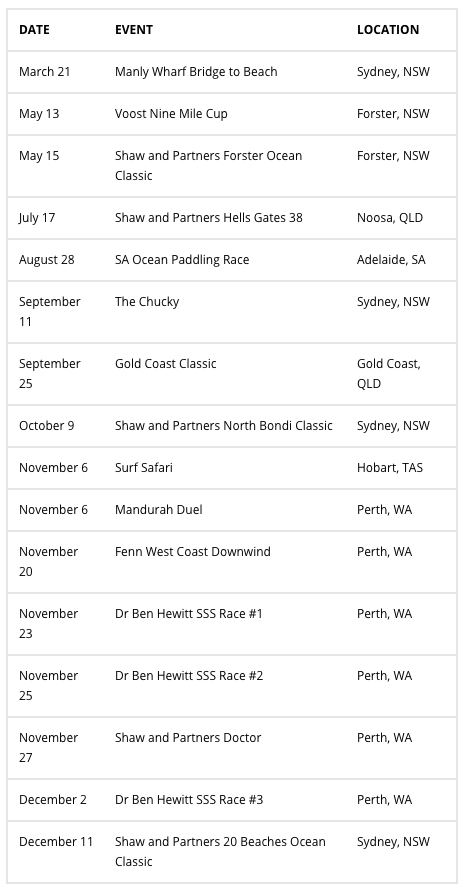 For more information on these events, click here to go to the Australian Ocean Racing Series website.
Notably, organisers are not only pushing ahead with the Voost Shaw and Partners Forster Ocean Classic, but it's also been rated as one of three 'premier' events alongside the WA Race Week, incorporating The Doctor, and the 20 Beaches Ocean Classic.
The inaugural Forster event will boast a similar structure to that of WA Race Week – beginning with a shorter downwind on the Thursday night, a Dash for Cash on the Friday, before the main full-distance downwind on the Saturday
Across the weekend, $40,000 will go on the line.
"It's huge, and it's indicative of what the whole season is coming together as." Gardiner says.
"The beauty of Forster is that it caters for nearly every wind direction… we can run an event in whatever direction its blowing.
"It's early in the season, so it's really going to set up people's year and allow them to know where they're sitting on the pointscore.
"There'll be people coming out of clubbie season and kayaking season who'll be pretty fit, then there'll be others who are just getting back into it after a break over Christmas.
"The location is perfect, given it suits a large portion of the population and the racing itself will make for an amazing event if it all comes to fruition.
"All things considered, I think it's going to be quite a large event."
Despite undergoing reconnaissance mission scouting Hamilton Island last month, at this stage, the tropical paradise won't be hosting an event in this year's series.
Instead, Gardiner's main focus is supporting an expanded WA Race Week program – that wasn't able to go ahead last year – as well as Sydney's iconic 20 Beaches, which will now boast $100,000 in prizemoney.
"That's a significant amount of money," Gardiner says.
"Obviously every single top guy ever will be there to do that race, and it'll trickle down into the age groups as well, so it'll be worthwhile."
The current $350,000 pool on the Shaw and Partners Australian Ocean Racing Series could still rise even further.
In a change to previous years, the top finishers on the overall standings will pocket an as-of-yet unallocated prize purse.
"We haven't confirmed what amount that will be, but due to the generous support of some of the manufacturers – namely Fenn, Epic, Knysna, Nordic and Allwave – we can give away some series prizemoney." Gardiner confirms.
Talks are also being held for the AORS to again be used to determine Australia's representatives for the ICF World Championships, in what would be a return to the previous format.
It all combines to create a – COVID permitting – watershed year for Gardiner and his events.
However you won't catch the surfski legend pausing for a single moment to reflect on just how far he's helped the sport progress.
"When I stop I'll do it," he chuckles.
"You only look to the future… you never look to the past."