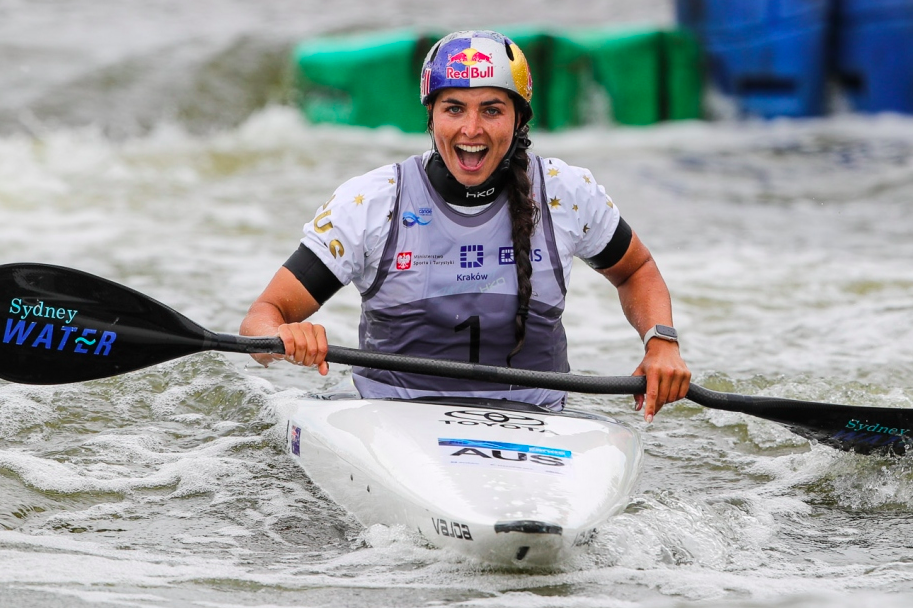 Australian Jess Fox's love affair with the Krakow slalom course continued and Czech Vit Prindis bounced back from one of the most challenging weekend's of his career to post K1 wins at the ICF world cup on Saturday.
Fox has twice won both the K1 and C1 titles in Krakow – at the last ICF world cup in 2018, and at the U23 world championships in 2016. She also won C1 gold in Krakow in 2015.
On Saturday she again showed that on her best days she is a class above, finishing 2.58 seconds ahead of Czech Tereza Fiserova to repeat her win of seven days earlier in Prague.
"Obviously two wins, it's a great way to start the season, I'm really happy with the way I paddled in that final," Fox said.
"It's a very physical course, the water is kind of dead and slow in a lot of places, you've got to always be paddling to keep the speed on the boat. When I finished I would have been interested to see what my heartrate was, because I didn't have much more in the tank ».
"There's always a few unknowns at the start of the season, our preparation was a bit different this time, but I think if the last two years have taught us anything it's that you have to be adaptable."
The final was robbed of a showdown between Fox and Tokyo Olympic gold medalist, Ricarda Funk, after the German team were forced to withdraw because of a Covid outbreak.
Silver represented the first ever world cup K1 medal for Fiserova, who will be aiming to defend her C1 and extreme slalom titles from Prague on Sunday. Czech teammate Amalie Hilgertova finished third, winning her first individual world cup medal.
Vit Prindis missed his first final for several seasons in front of his Prague home crowd last weekend, and also had to deal with issues off the water which included illness at the start of the week. But he showed no ill-effects by edging out two Olympic gold medalists in Saturday's K1 final.
Prindis was just 0.16 seconds ahead of Great Britain's 2016 Rio gold medalist, Joe Clarke, with Czech teammate and Tokyo gold medalist Jiri Prskavec third.
"I'm so happy to be back on the top of the podium, it means a lot for me because it proves I am still in good shape and I can win on different types of water," Prindis said.
"Last week was really hard for me that I didn't enjoy the race, that I couldn't enjoy the spectators and was unable to show my skills to the spectators. I hope my show here in Krakow will cheer the spectators back in the Czech Republic ».
Sunday will see finals in the men's and women's C1 and the extreme canoe slalom.
RESULTS
WOMEN'S K1
FOX Jessica (AUS) 91.29 (0 seconds penalties)
FISEROVA Tereza (CZE) 93.87 (0)
HILGERTOVA Amalie (CZE) 94.26 (0)
MEN'S K1
PRINDIS Vit (CZE) 84.94 (0)
CLARKE Joseph (GBR) 85.10 (0)
PRSKAVEC Jiri (CZE) 85.46 (0)
>>> Website
>>> Livestream
>>> Startlist & Résults
>>> Photographs
>>> Races & Interviews