PRIJON - produces your kayak sustainably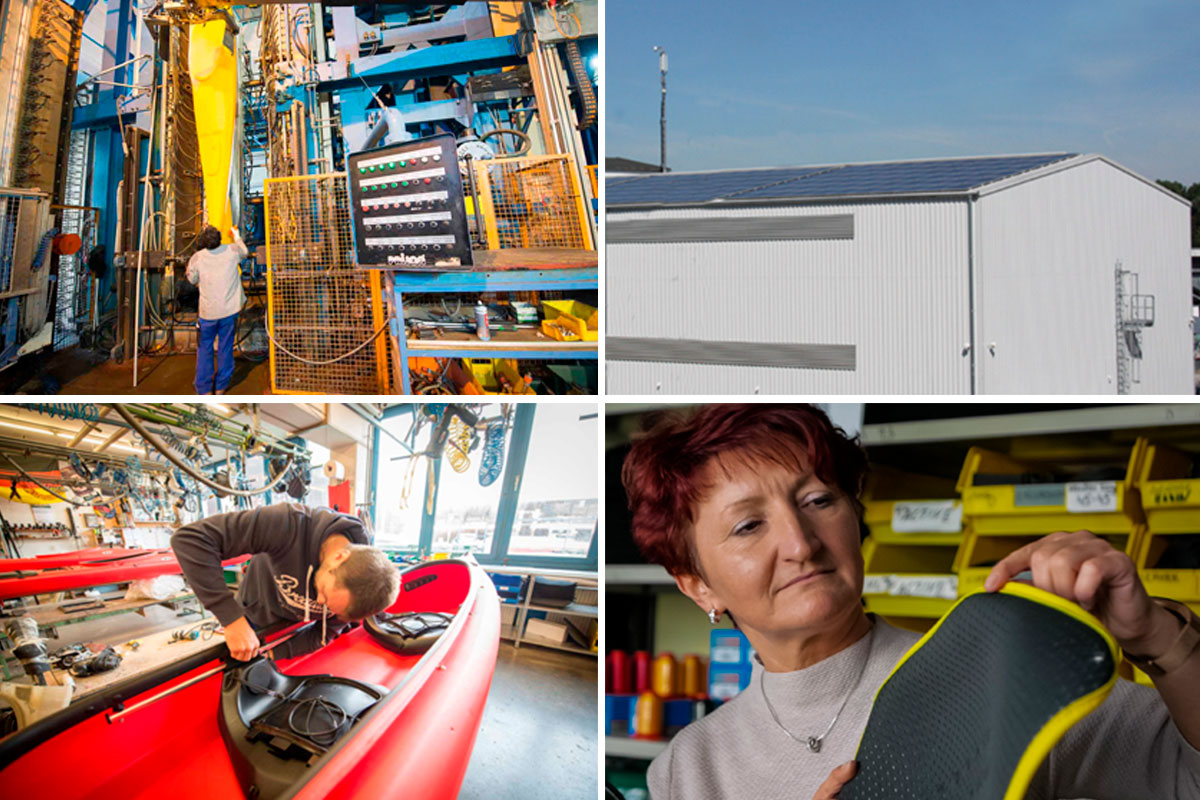 All of Prijon's kayaks are manufactured by hand without piecework to offer excellent quality. Since the formation of the Prijon GmbH more than 60 years ago, they place importance to sustainability, pay tribute to human beings and nature and deal fair with their partners. To be responsible for what you do isn't a trend for them but has ever been a naturalness instead. Their wish is to paddle the river with a good feeling in the heart and it stimulates them to avoid hurting the nature. Seeing the Alps through their office windows and having the Chiemsee lake (the Bavarian sea) close to the factory, they feel a heavy responsibility for thinking sustainably. Waste avoidance and garbage separation, energy efficiency measures and further measures to reduce traffic, heating and cooling costs – Prijon does not only talk about it, but practices sustainability instead with these impactful measures:
SHORT WAYS
More than 80% of the components assembled in Prijon kayaks, come from their own factory or from suppliers located within max. 300km radius. This ensures short delivery- and transport routes to their dealers and customers. And this results in only low emissions and low energy costs for the delivery. The heavy oil consuming containership is missing in the life cycle assessment of a Prijon kayak!
INHOUSE ENERGY GENERATION
Since 2009, they operate a photovoltaic-system on the roof of their warehouse and ecologically produce a part of the needed electricity for the production out of sunlight. Eco-friendly generated electricity matches with eco-friendly produced kayaks. Thanks to their photovoltaic system they saved approx. 380 to of CO2 since its activation. The process heat of the production of the hulls is used for the heating of the production building.
THEY SEW AND PRESS ON THEIR OWN
All of their sewed and pressed parts don't come from Far East but from their workers in their own sewing room or compactor instead. This is how Prijon works regional and sustainable.
MADE IN GERMANY
Prijon kayaks are made according to the latest standards in their factory in Rosenheim, Germany. Permanent quality checks during the production guarantee a constant high quality. This ensures important jobs in their region, for their workers as well as the workers of their suppliers, and guarantees premium quality. The value chain stays in the country.
For the production of their world-famous HTP-kayaks, Prijon is using a special PE, called HTP. This material can only be used in blow-molding and not in roto-molding technique, as used by other producers of kayaks. The molecule chains of HTP are approximately 10 times longer than those of rotated PE. This makes the boat hulls stiffer, lighter and less susceptible to abrasion. HTP-kayaks have clear advantages regarding form stability, abrasion and boat weight, compared to kayaks made of rotated PE. Plus: Prijon's HTP is very environmentally friendly! When it is recycled, there are no poisonous gases or residues; it is ground water neutral and free of heavy metals.
ACCESSORIES FOR THE KAYAK SPORT
Prijon accessories for paddlers are designed together with their partners, to get the best possible results and fulfill the highest needs regarding quality and function. At PRIJON they develop and produce most accessories where possible on their own. Where they need to acquire accessories elsewhere, they source them from either local companies or neighboring countries. This reduces transport costs and pollution, increases the quality control and creates local employment. By doing so, a continuous quality management and a best possible service level is guaranteed for both kayaks and accessories.
QUALITY AND ENVIRONMENTAL CONSIDERATIONS
Prijon eco-products are sustainable and eco-friendly. From the first idea until the ready-to-deliver product, the quality control is in their hands and they increase creation of values in the country. The love to nature and the responsibility for the next generations is a matter of the heart for Prijon.
You can find an additional eco-label on all Prijon products, produced according to these standards.
My Vote Goes to this Product