POOLSTAR - Coasto E-motion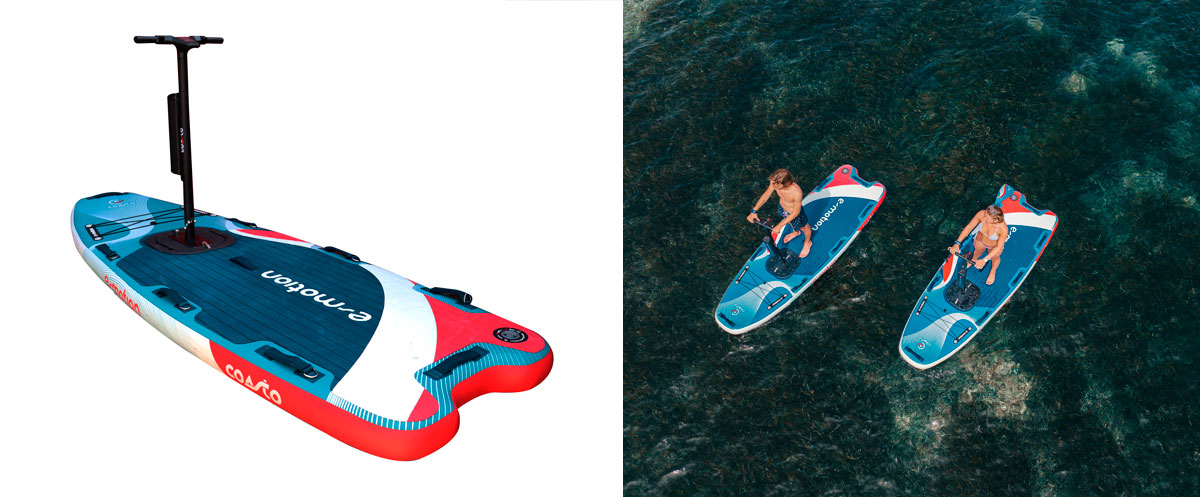 Coasto / E-motion – Inflatable Electric Stand-Up Paddleboard
Technical Information:
Dimensions: 305x105x15 cm
Speed: 6.5 km/h
Battery Life: 1 hour 30 minutes
Drop Stitch TTS Technology
Motor: 500W
Battery: 270Wh
Removable Center Fin
Discover the E-motion, the inflatable electric stand-up paddle from Coasto. It represents a blend of audacity and technology, an innovative world-first in the realm of aquatic mobility. It offers a unique experience by combining a high-quality inflatable board with an electric propulsion system.
It features a double-layer fusion drop stitch inflatable board for maximum durability and increased rigidity once inflated. Its dimensions are designed to provide optimal maneuverability and perfect stability, supporting up to 180kg of load and delivering a breathtakingly comfortable navigation experience. The 500W motor and 270Wh battery enable speeds of up to 6.5 km/h for 1 hour 30 minutes, both forward and reverse.
For added comfort and safety, the handlebar has a directional angle for precise trajectory control. Intuitive acceleration triggers allow for easy speed control. Moreover, it has a speed regulator that allows you to move without constantly holding down the acceleration trigger, while the battery level indicator, both visual and auditory, ensures you are never caught off guard. However, if the battery runs out during your outing, the included paddle, which attaches to the handles, will allow you to reach the shore calmly.
The E-motion aims to be simple and reassuring. Its board width, 25% wider than traditional stand-up paddleboards, ensures maximum stability, instilling confidence from the very first ride. Our magnetic safety leash connected to the handlebar provides enhanced safety by instantly cutting off the motor in case of a fall.
Designed for easy transport, the E-motion folds and fits into a compact wheeled backpack, weighing only 16kg when deflated. The motor can be disassembled in less than 5 minutes and conveniently stored in its carrying case, which weighs less than 11kg. This allows you to transport it in any car trunk.
In summary, the E-Motion pushes the boundaries of innovation, offering the ultimate electric paddle experience.
My Vote Goes to this Product