PADDLE SHOW RACE OCTOBER 1 ST & 2 nd
The Paddle Show Race, is an open race for stand up paddlers, open to all, organised during the TESTIVAL, a side event of the Paddle Sport Show, the international paddle sports tarde show. For 2022, the Paddle Show race hosts also the French Championships of Sup Racing in partnership with the french surfing federation (FFS).
On the menu long distance races (hard board, inflatables & open to all). Also in the program an on-water « Pink October » parade with Stand-up boards, kayaks, canoes, to the benefit of Ingrid Ulrich's non profit « au delà des oceans ».
1 – PROGRAM
2 – RACE INFORMATION
3 – USEFUL INFO
1 – PROGRAM
Friday Sept 30th:
16.00 / 19.00 Registration confirmation
Gear test for all models exposed at the paddle sports show (2023 novelties)
Training
Saturday Octobre 1st:
09.30 / 11.00 Registration / Confirmation
10.30 / 12.30 Sprint series
13.00: On-water « Pink October » parade + Sup Yoga
14.30: Foil Challenge
15.30: Sprint Finals
16.00 / 18.00 Registration/ Confirmation
Sunday October 2nd:
9.00: Race Briefing
9.30: Paddle Show Race 2022 starts
12.00: Prize giving
REGISTRATIONS: https://www.njuko.net/paddle-show-race-2022/register/87996
Infos: hello@thepaddlesportshow.com
NB:  free parking, a secured boards area available through the week end, changing rooms, toilets reserved for particpants are available through the week end.
Long Race 12 km
Race Course description
A wonderful urban race course. 
The start is located right below Pasteur bridge; racers will paddle upstream for 6km and will paddle down the other way after the buoy turn.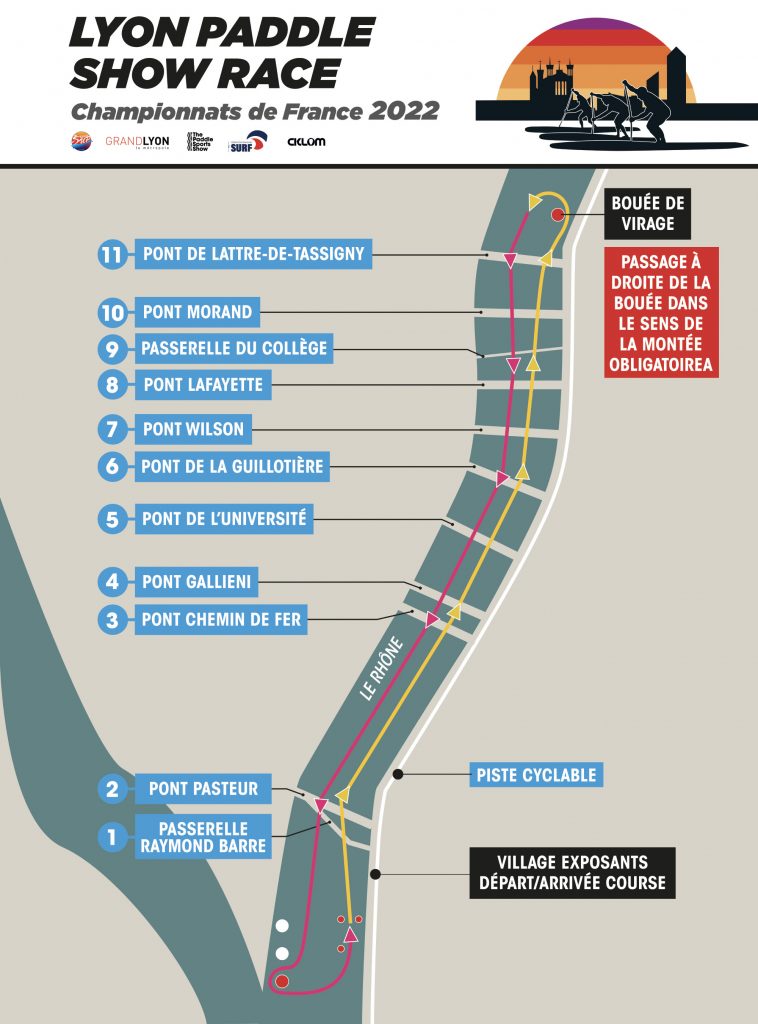 Camping 
We recommend if you come with a camper van to go to the Lyon campsite located 5 km away.
No camping allowed on the races parking.
Hotel
Hotel Ibis Meyrieux (5 min from the race spot)
Parking
We organized  3 parking zones
Parking badges will be handed at regstration confirmation.
P1 TESTIVAL – 4 rue Jonas Salk 69007 Lyon
Free & guarded
Reserved for exhibitors & racers coming with vans
P2 TESTIVAL – 11 rue du Vercors
Free & guarded
Located 5 min walk from race sport.
Parking Rue Jonas Salk 
20 reserved spots for racers – non guarded.
Parking underground LPA – Rue Jonas Salk
NB: (limited 190cm in height)