This serie of articles, called "NEW @ The Paddle Sports Show 2021" showcases the products that are competing for the « PADDLE SPORTS PRODUCTS OF THE YEAR AWARDS »
Entry for Whitewater – Bliss by Spade Kayaks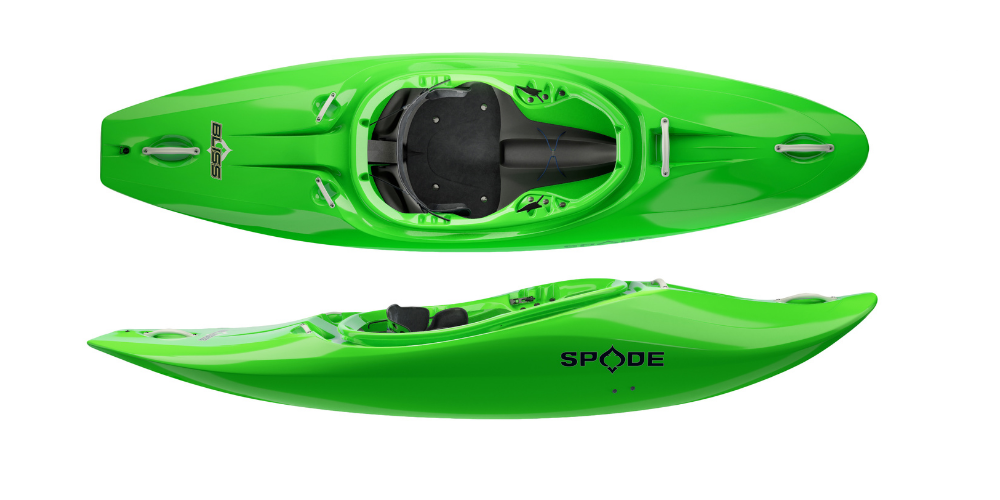 "Why: Against the trend to long slicey boats all quite at the same length of 274cm we made a shorter boat with a specific Rocker in the front, that makes the Bliss a perfect surf and play kayak for the typical steep waves in most rivers. The bow always stays on top, which makes surfing and spinning easy for paddlers of all skill levels. Plus the Bliss also has enough volume to paddle serious whitewater. There is the option to outfit the Bliss either with clam cleats or with ratchets."
This is our new down river freeride machine! Leave no rock unsplatted, no wave unsurfed, and no eddy-line unsquirted.
The Bliss will take the fun on your favourite play run to a new level. At a length 245 cm and it's planing hull it's perfectly suited for playful whitewater and spicing up your runs with freestyle moves along the way.
Enough bow rocker will allow you to keep your nose dry while charging through harder rapids. Enough space in the cockpit will enable you to sit comfortably even after long hours on the river. It features 5 handles a solid footrest and a full sized cockpit for save and easy exit.
Volume: 235 l
Lenght: 245 cm
Width: 65 cm
Weight: 20 kg
Paddler: 60-90 kg
More info on the SPADE KAYAKS WEBSITE
This serie of articles, called "NEW @ The Paddle Sports Show 2021" showcases the products that are competing for the « PADDLE SPORTS PRODUCTS OF THE YEAR AWARDS »
It is produced & organized by KS Publishing (publishers of Kayak Session, Paddle World and Sup World magazine).
The Paddle Sports Show, is the world's largest paddlesport-specific trade show ('trade show' meaning entrance is reserved for professionals) highlighting what the general public will find on shelves and in stores in 2022. It includes everything from kayaks and canoes to stand-up paddle boards and inflatables, with the apparel and accessories needed for it all. See the product and meet the manufacturer at The Paddle Sports Show 2021 in Lyon (France) > www.thepaddlesportshow.com