This serie of articles, called "NEW @ The Paddle Sports Show 2021" showcases the products that are competing for the « PADDLE SPORTS PRODUCTS OF THE YEAR AWARDS »
Entry for Apparel – Peak EVO Outerwear by PEAK PS
Peak PS Rebrand.
For 2022 Peak UK has had a brand overhaul. All products will now sport the new Peak PS logo. The UK based brand has chosen to move away from the geographic UK reference and go for a broader more global brand. UK has now been replaced with the letters PS to represent Paddlesports. The United Kingdom based company will continue to operate as Peak UK Kayaking Company Ltd, and the European Union subsidiary will still operate as Peak EU Kayaking Limited. Perhaps one day a Peak US company will evolve? Watch this space…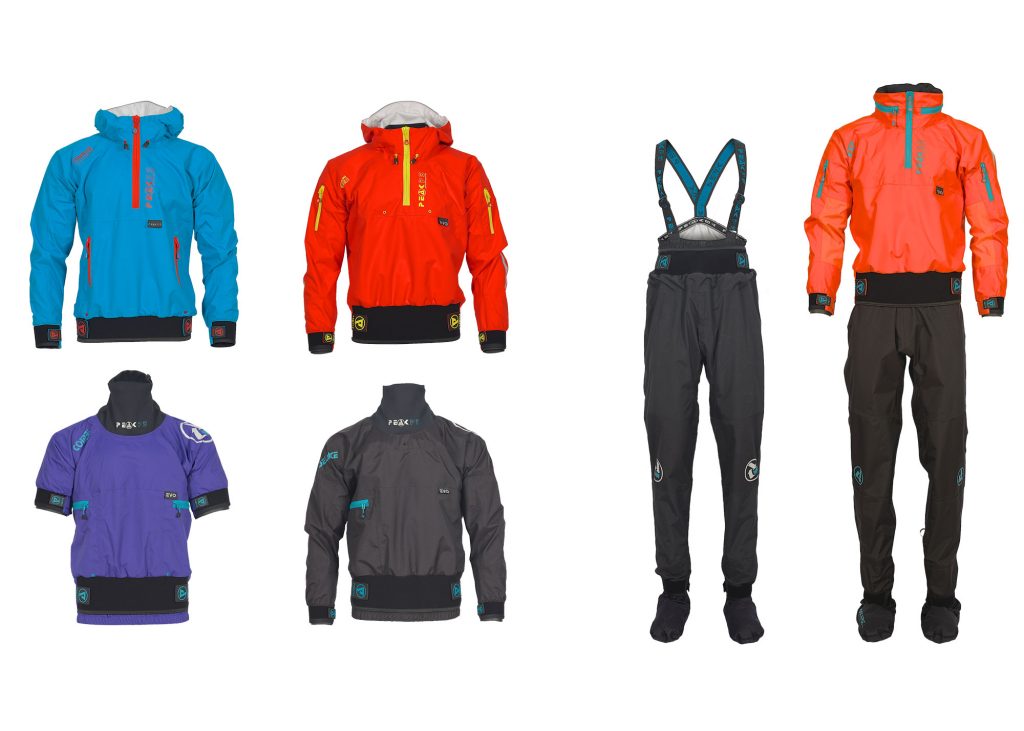 Also for 2022, the entire range of whitewater, ocean and touring jackets, pants and suits have been reinvented from the inside out… the new line up has radically evolved in the following ways:
Improved construction: Each pattern in the Evo range has been redesigned, with the aim of reducing any bulky taped seam junctions and layers, ultimately creating a far more waterproof garment. In order to achieve this, the designers at Peak have stripped back each product to as a single seal garment, then adding all the garments outer wrist, waist and ankles seals to the outside of the garment. This in turn creates a far improved construction, with minimal seam junctions and potential leaking points thus achieving a far dryer and more reliable garment.
Bespoke Evo latex Seals: The entire industry uses the same shaped latex wrist and bicep seals, where the wide opening end of the seal is the same circumference on every size of garment, from XS to XXL.  For the EVO line the team at Peak have engineered their own unique latex seals that scale at both ends for each garments size, resulting in improved seam alignment and shaping between the garment and its latex seals. This in turn improves the garments seam taping quality and waterproofing.
More sustainable fabrics: Following on from the Peak Eco range, Evo garments are even more sustainable. The entire range of Peak jackets, pants and suits are constructed from recycled yarn fabric, with some containing 100% recycled yarns. The three layer fabrics feature a 100% recycled tricot on the back face. All EVO fabrics use CFC free water repellent finishes.
Bioprene Seals: Peak EVO garment utilise bioprene outer seals. Bioprene is a neoprene sponge material constructed from recycled seashells from the food industry to produce a limestone expanding powder. The sponge is then laminated with recycled nylon and polyester linings.
Recycled YKK Zips:
All Peak EVO garment pocket and neck zips are manufactured from recycled polyethylene.
More info on the PEAK WEBSITE
This serie of articles, called "NEW @ The Paddle Sports Show 2021" showcases the products that are competing for the « PADDLE SPORTS PRODUCTS OF THE YEAR AWARDS »
It is produced & organized by KS Publishing (publishers of Kayak Session, Paddle World and Sup World magazine).
The Paddle Sports Show, is the world's largest paddlesport-specific trade show ('trade show' meaning entrance is reserved for professionals) highlighting what the general public will find on shelves and in stores in 2022. It includes everything from kayaks and canoes to stand-up paddle boards and inflatables, with the apparel and accessories needed for it all. See the product and meet the manufacturer at The Paddle Sports Show 2021 in Lyon (France) > www.thepaddlesportshow.com