This serie of articles, called "NEW @ The Paddle Sports Show 2022" showcases the products that are competing for the « PADDLE SPORTS PRODUCTS OF THE YEAR AWARDS »
Entry for INOVATION AWARD – Sandiline, Drysuit Black Edition M23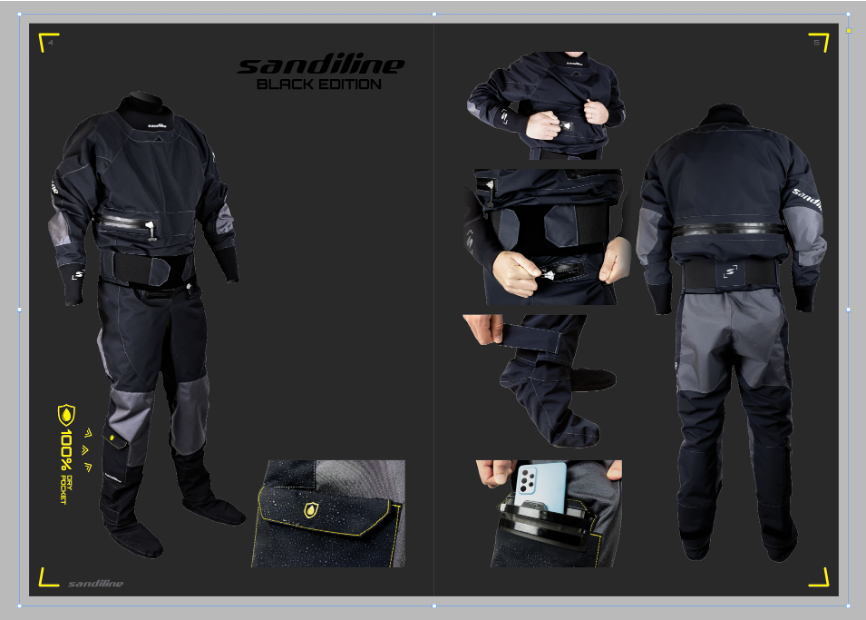 Description:
The most advanced dry suit in Sandiline history.
Finding the perfect combination of ergonomics and unparalleled technical features has always been a priority for Sandiline. The Black Edition M23 redefines the standards of a kayak drysuit.

Specially designed for white water adventures and equipped with brand new features and gadgets, designed to fit the needs of elite white water paddlers. Technical details like the stretch fabric, the reflective inserts and the 100% waterproof pocket are just a few of the unique features this dry suit has to offer.

The new cut guarantees unparalleled freedom of movement while avoiding friction of the fabric and thus prolonging the lifetime of the dry suit.
The 3 layer stretch fabric gives a superb user experience, ensuring optimal body temperature regulation even on the occasion of unfavorable weather conditions.
The TIZIP has been strategically placed on the torso, ensuring maximum freedom of movement, zipper protection, and above all, easy dressing and undressing, without the help of other people.

Thanks to the partnership with FIDLOCK® we have designed a 100% waterproof pocket sealed with patented Gooper magnet technology, able to accommodate a Smartphone up to 6.5 inches.
A very important detail to face our outings in total safety. The logos and inserts near the water drains are produced with a reflective material, to ensure greater safety in case of low light conditions.

Black Edition; the dry suit for those who want a product that breaks regular dry suit standards.


Why should win ?
Because it is made with high quality material for very long lasting and big respect for environment.
Because no any other drysuit in the world have a 100% waterproof pocket.
Because it is stylish! Because it is hand made on sunny side of the Alps (Slovenia)
for more info about SANDILINE