This serie of articles, called "NEW @ The Paddle Sports Show 2022" showcases the products that are competing for the « PADDLE SPORTS PRODUCTS OF THE YEAR AWARDS »
Entry for PADDLE  – Melker Arkö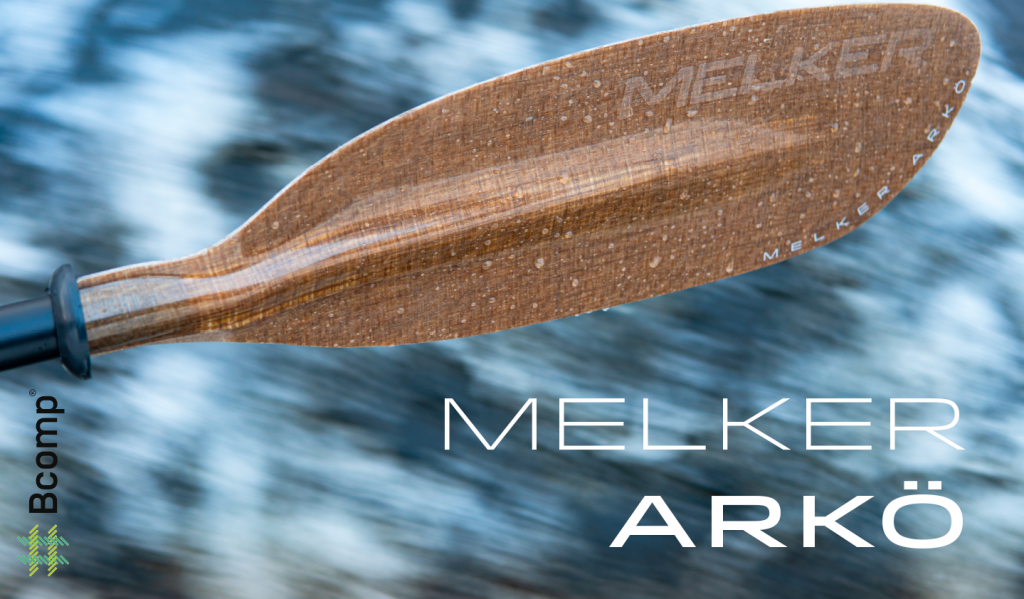 Melker of Sweden launches the Melker Arkö – an innovative paddle made with Bcomp's technical flax fabrics. The Arkö is a unique paddle which unites innovative design, traditional craftsmanship, natural beauty, and technical performance of the highest level.
Since its inception in 2015, Värmland-based Melker of Sweden has had a vision of manufacturing innovative outdoor products with as little environmental impact as possible, without sacrificing neither performance nor design.
Leading the Way for Sustainable Paddling Equipment
With the Arkö paddle Melker continues to lead the way for innovation, sustainability, craftsmanship, and design. By combining the highest possible technical performance with the natural beauty of flax fibres they have created a very special paddle. The renewable and technically advanced ampliTex™ flax fabrics provide the excellent material properties for the well-thought-out design.
The medium-sized paddle with its balanced blade design meets most paddlers' high demands for a primary paddle. It cuts through the water easily and rewards the kayaker with high power and speed. The blade shape offers precise control while the flax fibres add specific compliance, putting less strain on the shoulders and joints and allowing for a more relaxed paddle stroke.
Sustainable High-Performance Materials
The use of natural, high-performance flax fibres that are locally grown in Europe allows Arkö paddle to achieve the highest possible mechanical properties while significantly reducing its CO2 footprint. Melker chose to work with ampliTex™ technical fabrics to give the Arkö its lightweight but durable construction with optimal strength and stiffness. Choosing to use flax fibres naturally provides higher vibration damping which – together with the design – results in a paddle that feels distinctively different and is very easy to handle.
"With the Melker Arkö, we have combined our knowledge and experience in innovation, craftsmanship, design, and bio-based materials and created a completely unique paddle – a carefully designed partner for a life on the water," says Pelle Stafshede, founder of Melker of Sweden.
A reusable and award-winning packaging solution for kayaking paddles
Melker of Sweden is an outdoor company aiming to be the best in sustainability. The design collaboration with Stora Enso to develop a packaging for their new paddle was successful in more than one way. The turnout is a renewable corrugated box, a wall hanger, a storyteller and an awarded design – free from fossil plastic.
"We used to pack our paddles in bubblewrap and tape, which doesn't suit us at all. We aim to be the best in sustainability within outdoor and we always search for new environmentally friendly materials to use in our products. So of course, we also want to minimise plastic in our packaging," says Emil Gyllenberg, COO at Melker of Sweden.
Melker of Sweden is an outdoor company selling kayaks, paddles, outdoor equipment and clothes. They have the bold ambition to completely game change the outdoor hardware industry. "We want to make a real difference. Making the best products is crucial for saving the planet," says the company founder, Pelle Stafshede. In 2021 they launched a new kayaking paddle and needed a packaging for it, a packaging free from fossil plastic.
"There was no good or sustainable way of packing paddles before this. We wanted to find a better solution. We also wanted something fun with a nice design. The box should be an experience too, in line with the product we sell," Emil continues.
Making a box that is also a wall hanger and a storyteller
Together with Stora Enso Packaging Solutions' design team they collaborated in workshops. Melker of Sweden needed a sustainable and resistant packaging that would protect the fragile paddles. Also, they asked the design team for a "second life feature".
"They were very interested in reusability and did not want the box to be recycled or thrown away directly after unpacking, which is why they asked us to build in a feature for the box to have a second life," says Ģirts Derums, design project manager.
After many ideas, the result was a corrugated box that can also be used as a wall hanger for your paddles. A part of the box can be taken out and mounted on the wall to store the paddles when they are not being used. Since corrugated board is a stiff material, this works perfectly. The part that is not mounted on the wall can be recycled in paper recycling.
While the Stora Enso team delivered the packaging design, Melker of Sweden provided the artwork for the inside of the box. It consists of photos from kayaking adventures and short snippets of their outdoor stories, or "Melker moments". "The comments we have got from customers about the packaging is that it 'truly feels like us.' I think it proofs that the design collaboration was great." Emil concludes.
for more info about https://melkerofsweden.se/products/melker-arko-den-enda-paddeln-du-nagonsin-behover