This serie of articles, called "NEW @ The Paddle Sports Show 2022" showcases the products that are competing for the « PADDLE SPORTS PRODUCTS OF THE YEAR AWARDS »
Entry for Whitewater – JACKSON KAYAKS, GNARVANA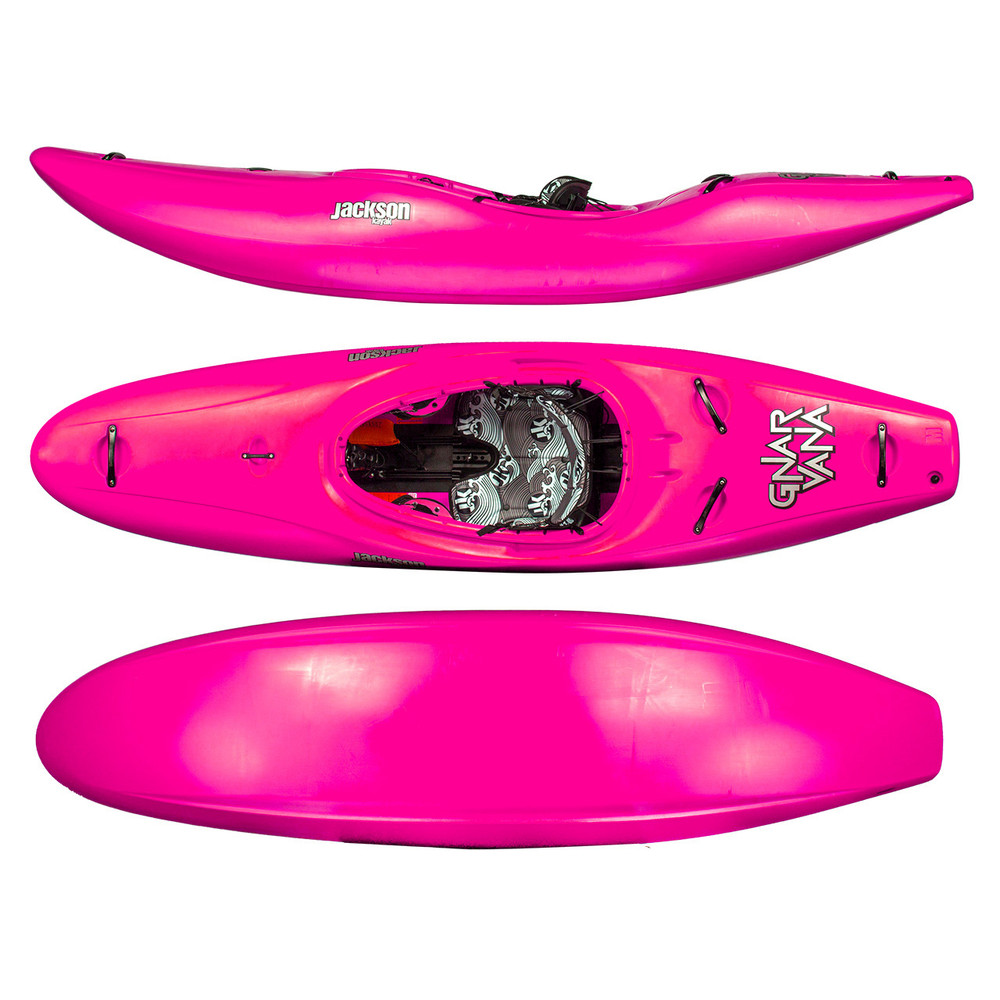 Jackson Kayak's Gnarvana takes our favourite features of the top selling Nirvana and adds a whole new level of performance. The highest rockered bow, significant stern rocker, and a wider centre point, to ensure that you feel high, dry, and stable. The float and rocker profile make this creek boat incredibly easy to manoeuvre.

Whether you are looking to run the hardest whitewater, or make it down your backyard run with ease, the Gnarvana is gonna rock your run.
Building on the performance of the proven Nirvana was never going to be easy but we've one of the fastest boat on the water and turned it from all out race machine to the boat you want to paddle 365 days a year,
Big water, rocky creeks, racing the new Gnarvana will take it all in its stride, with both manoeuvrability, confidence alongside its natural speed makes this a true whitewater machine
Features:
High Rockered Profile
Carrying Strap for Easier Transportation
Jackson Kayak's Bees Knees Thigh Hook System (Patented) for increased contact and control in the thigh brace area.
Jackson Kayak's Uni-Shock Bulkhead System (Patented) – the highest shock absorbing system on the market
Jackson Kayak's Sure-Lock Backband System (Patented) – the lightest, most user-friendly system that can be adjusted anywhere
Jackson Kayak's Warranty Program
Available in three sizes – Small, Medium, and Large
Designed for:
Anyone looking to go downstream with confidence. Designed as our core creek boat, the Gnarvana excels in every river environment.
What sets this apart?
The nirvana has been a core Whitewater product for the past 5 years, to create a MK 2 for such an iconic boat was never going to be simple so its been waiting in the wings whilst we've learnt and loved from all our favourite features to give you a boat we are truly proud to paddle.
Building on the Nirvana we needed to bring a small size to the game, with many people having to upsize to a medium in the last generation we feel we need to be inclusive and really build a size to fit everyone.
for more info about  https://jacksonkayak.com/jackson-kayak-gnarvana/