This serie of articles, called "NEW @ The Paddle Sports Show 2022" showcases the products that are competing for the « PADDLE SPORTS PRODUCTS OF THE YEAR AWARDS »
Entry for SEA KAYAKING – Designkayak, Awesome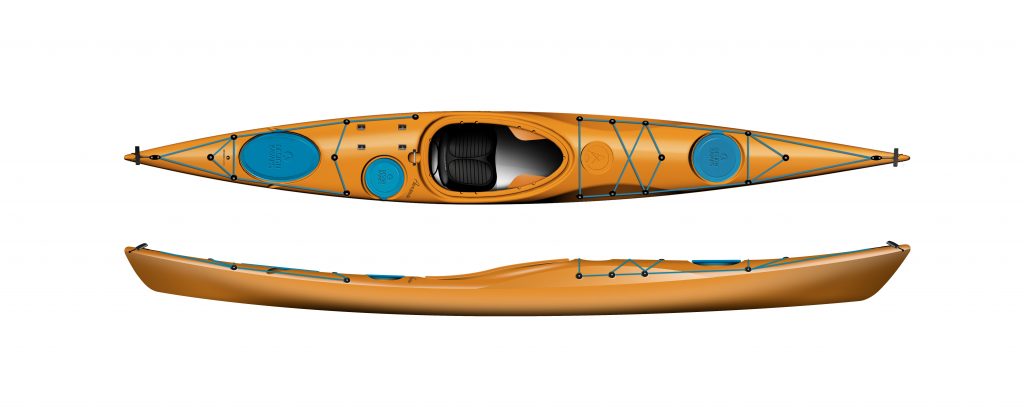 User driven sea kayak design
It is in our DNA to create great sea kayaks. In order to do that you need to listen to the users and invite others with expertise in the design process. With the design of our third model called Awesome we decided to go all in on user driven innovation.
To complete and complement our already existing model range, we wanted to create the ultimate Ocean Playboat. And we wanted it to be born out of our users' genuine dedication, interest and love for paddling.
Five initial key criteria for the kayak
User involvement and full transparency in the process
A sea kayak specialized for surf, waves, play and technique
Strong rotomoulded 3-layer hull
Extremely durable carbon seat
Multi adjustable backrest with maximum freedom for rolling
Working with the experts
With these criteria in mind we invited a group of experts with experience from kayak surf, rolling and endurance race to join in on the design process. Based on discussions, notes and sketches (and a lot of coffee) we gathered all inputs into inches and shapes – and a preliminary drawing of the boat was made.


Inviting a wider range of paddlers
But we did not only rely on experts. To get real user input and meet the demands of a truly user driven design process, we set up a crowdfunding campaign. That gave us not only funding for the production but also a lot of valuable input from a wider range of paddlers.
The backers of the crowdfunding campaign ranged from highly skilled paddlers to relatively new paddlers eager to hone their skill set to instructors looking for the perfect Ocean Playboat for teaching and fun.
Test, Reshape, Repeat – real life testing and refinement
Having all these inputs and a preliminary drawing of the kayak does not complete the process of creating a sea kayak that is truly awesome. So from the drawings we created the first fiberglass prototype. And from here on followed a rigorous real life testing phase where we would test, reshape and refine for as many times as it took to make it just perfect.
We invited the expert group to join us in the test and adjustment process of the prototype. This week-long event was taking place at our factory in South Africa. From the experiences that the swells of the Indian Ocean brought us, we made several adjustments that improved tracking, rocker, the paddler's space of movement and the boat's edging capabilities. And it also gave us knowledge about the amount of strain and beating the Ocean Playboat aimed at extreme conditions. After several days of testing and reshaping, we could finally complete the drawing for the mold that would be the offset for the production of Awesome.
A fully transparent process
The whole process has been fully transparent and documented with text, video and lots of pictures in a private Facebook group for our crowdfunding backers.So everything from testing in the big waves to sanding, cutting and reshaping the prototype and all the way to molding, fitting and assembling the first Awesome kayaks has been followed closely by our group of 60 dedicated paddlers.
for more info about designkayaks