This serie of articles, called "NEW @ The Paddle Sports Show 2022" showcases the products that are competing for the « PADDLE SPORTS PRODUCTS OF THE YEAR AWARDS »
Entry for KAYAK FISHING – BIG MAMA, Triken 330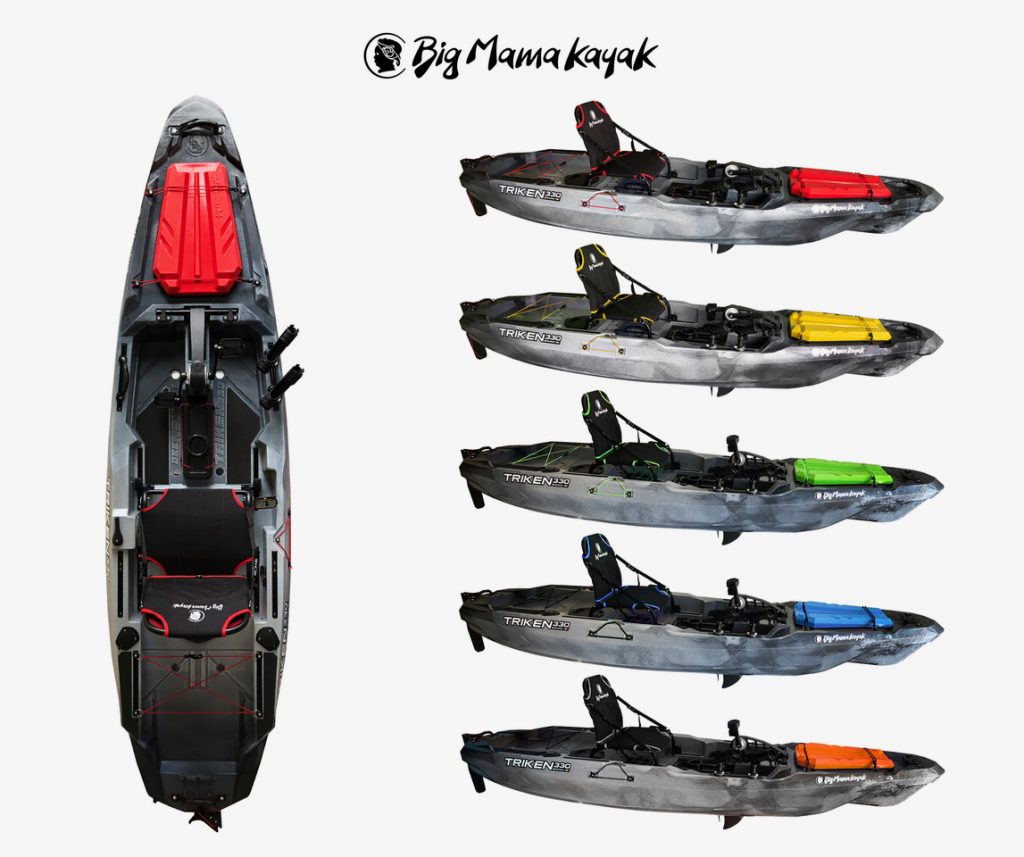 Triken 330, the fishing kayak (made in Italy) born from the experience of the Triken 405, an
advanced version in terms of accessories compared to its older brother from which it takes the great
stability widely demonstrated.
Raised bow and cuts on the side that favor the flow of water.
Paiolato divided into 3 levels of heights, for an ease of water flow, deck space with holes for
emptying the excess water.
Double pair of anti-slip pads supplied with "crocodile" design that improve grip when fishing
standing up.
A "trimaran" hull by now consolidated in terms of reliability and stability like the 405, the Triken
330 stands out for its great maneuverability thanks to a smaller overhang between propeller and
rudder, so as to allow the kayak to turn with a reduced radius of curvature.
Improved ease of transport, both from the point of view of the weight which is 30 kg, in addition to
the handles (4 external + 2 integrated in the rear under the stern) well distributed and repositionable
at will. Spaces well distributed, with a large rear hatch, easily accessible even when seated.
Retractable battery compartment obtained under the pedal system support, and integrated transducer compartment under the keel, with door and hole for connection to the battery compartment. Large bow locker with closed bottom (but potentially opening with additional optional inspection locker). Pedal system included, propeller, with repeater 1/10 (1 turn of pedals and 10 of propeller) with reverse gear with direct drive (simply pedal backwards to reverse the rotation of the pedals and have immediate control over the conduction).
The propeller pedal system, already extensively tested on the triken 405, is very reliable, robust and
non-invasive on the joints, as normally happens in the case of training with an exercise bike.
Raised seat with powder coated aluminum frame, high traction tenacity cordura fabric, water
repellent and tearproof, entirely handmade in Italy, space under the seat with elastic net ideal for
positioning the classic bait boxes.
Left rudder control lever with cable inspection hatch below.
Finally, the triken 330 has great modularity and customization, thanks to 11 Railblaza-type sliding
bars, which allow you to mount and move handles, hooks and any accessory from the vast Railblaza
catalog. The specific features for fishing are 2 integrated rear rod holders and 2 swiveling rod holders
included, as well as the possibility to mount the (optional) 29 liter oxygenated livewell with
integrated battery and "overflow" drain system.
As with any Triken, the great advantage is to buy an artisanal product and above all made in Italy,
where maximum customization is possible, from the colors of the hull, the locker lid and the
accessories. If desired, it is possible to visit the production by appointment (0775871479) to view and choose the best desired configuration
TECHNICAL FEATURES:
LENGTH 330 CM
WIDTH 90 CM
HEIGHT 35 CM
2 ORIENTABLE ROD HOLDERS
2 INTERNAL ROD HOLDERS
1 RECTANGULAR AFT LOCKER
1 INSPECTION LOCKER UNDER RUDDER
1 FRONT LOCKER WITH COVER OF COLOR OF YOUR CHOICE
11 RAILBLAZA BARS
4 EXTERNAL HANDLES
2 REAR INTEGRATED SOCKETS
1 RUDDER
1 PADDLE INCLUDED
1 PEDAL SYSTEM, INCLUDED
1 RAISED SEAT IN ALUMINUM AND FABRIC (MADE IN ITALY)
for more info about BIGMAMA