LITE VENTURE - Stellar Kayak S14 G2 Modular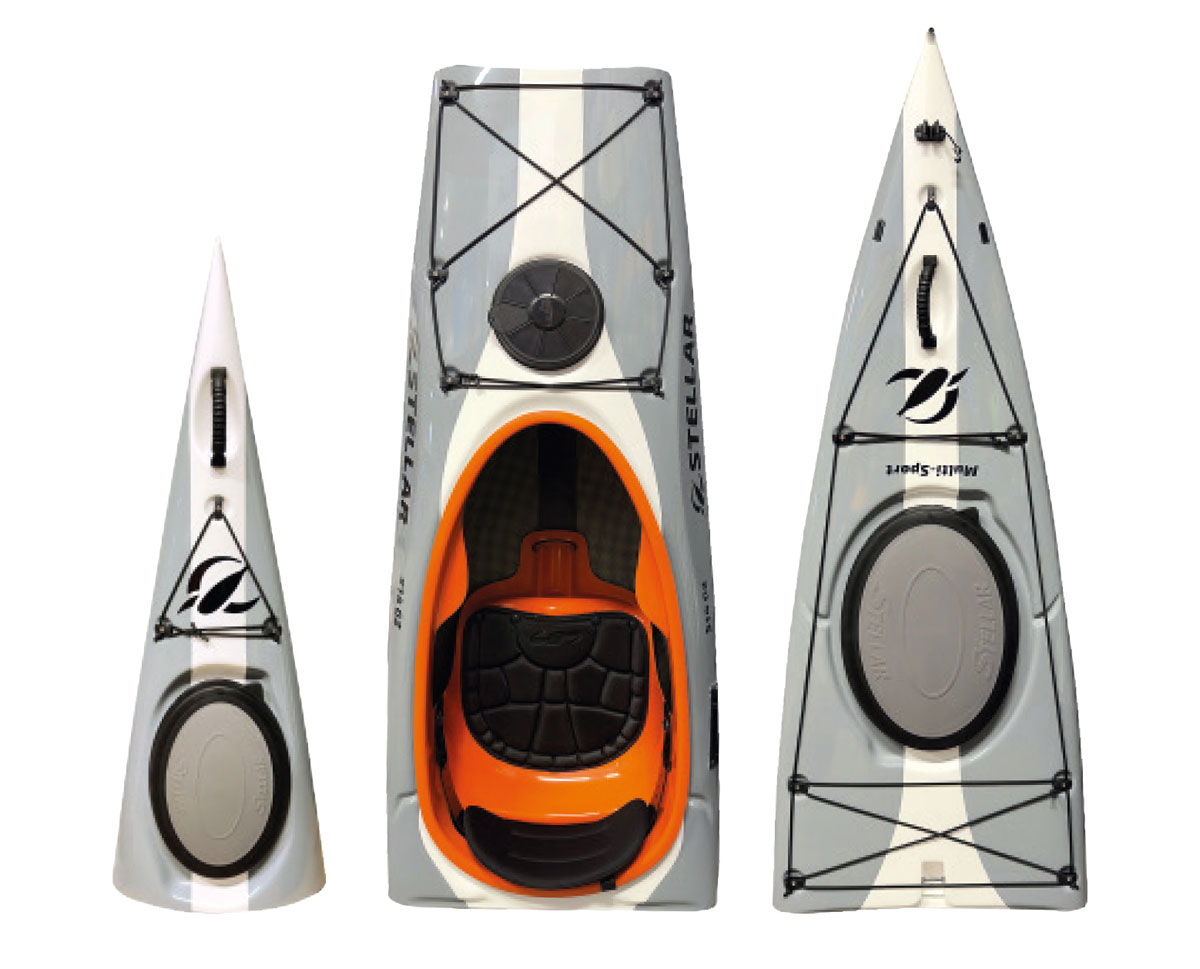 Represented at Paddle Sports Show Strasbourg by Lite Venture, the Stellar distribution partner for Germany, Austria, Switzerland and Western / Southern
Europe. The Product is shown at booth F24
Online Information:
https://www.liteventure.de/en/pages/stellar-kajak-s14-teilbar
Stellar Kayak S14 G2 Modular – Lightweight, Solid & Portable
Stellar Kayaks is pushing portability without sacrificing performance with the
new S14 G2 Modular Kayak. This kayak can be easily divided into three parts
– and it is a lightweight kayak on top! This concept pushes the idea of mobility
and performance further than any other kayak available. It fills a gap for all those who do not want to do without a solid kayak, but for whom lightness, transportability, storability, quick and easy assembling are important.
The Stellar S14 G2 Modular Kayak is a recreational kayak for almost any paddler: Its length of 436 cm is easy to control, nevertheless is is fast and
offers plenty of space for luggage. It is divided at the bulkheads and it can be quickly assembled or divided tool-free by using six screws in each case.
These screws are opened and fastened by hand, which makes the process very simple – it can be done in 5 minutes total time.
Due to its unique features it meets the needs of paddlers who travel with a campervan and want to make use of the storage possibilities to avoid
climbing on the top of the roof. It was designed for paddlers who live in bigger cities with limited ability to store a kayak or for people who don't like the idea to expose their kayak on the rooftop of a car which increases fuel consumption and which makes it prone to theft.
Carrying it is as easy: each part of the kayak weighs less than 9 kg and is stored in exact fitting transport bags.
The Stellar S14 G2 Modular Kayak was created in a cooperation between Lite Venture, the Stellar Distributor for Europe and Stellar Kayaks USA.
Technical Information:
Length: 436 cm
Beam: 62,1 cm
Depth: 34,5 cm
Cockpit opening width: 44 cm
Cockpit Opening length: 85,5 cm
Max. Capacity 155 kg
Total Weight: 18,5 kg
Single Parts:
Nose: Length / Weight 120 cm / 3,5 kg
Cockpit: Length / Weight 151 cm / 9 kg
Tail: Length / Weight 167 cm / 6 kg
Available in Carbon/Kevlar (Multisport) or Fibreglass (Advantage Layup).
At Strasbourg we will be there at F24:
Myriam Eismann, Lite Venture / eismann@liteventure.de / +49 176 19993336
Ben Lawry, Stellar Kayaks / ben@stellarkayaksusa.com / +1 843 368 2561
My Vote Goes to this Product