LETTMANN - Biskaya 55, 65, 75 & 85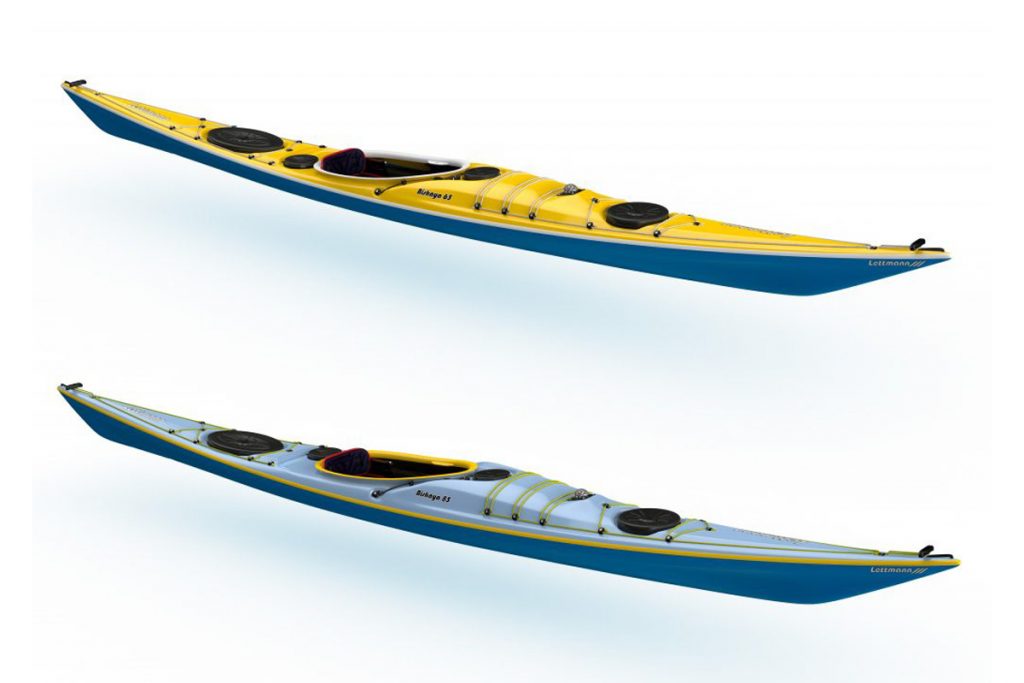 Reinventing our classic!
The Biskaya has been the athlete among our sea kayaks since 2011. The particularly fast and slim kayak is manoeuvrable and particularly agile, especially when you make use of the edge – which was child's play then as now thanks to the slim, strongly rounded U-frame. The new Biskaya, which is now available in four instead of three sizes, comes across as a sporty all-rounder more than ever, because the second generation's directional stability has been slightly optimized, which pays off on long tours and journeys, but not at the expense of the agility works. In addition, the stems have been slightly raised, which has a positive effect when surfing and breaking waves.
Take it sporty, try the Biskaya 2.0 – the ultimate all-rounder for training sessions, day trips or travel.
New sizes and new sizing system:
Being slightly more voluminous than the original Biskaya LV the Biskaya 75 is fit for kayaker from 65 kg. Its bigger brother Biskaya 85 is made for people from 75 kg. Because the new sizes didn't allign with our previous sizing system we decided to implement a new sizing system. The number stands for the optimum paddler weight +/- 10 kg. That means that our Biskaya is a kayak for paddlers from 45 to 95 kg!!
More wind stability, better surf and still incredibly agile:
Although we were super content with the original Biskaya's directional stability already, especially when packed and trimmed well, we aimed even higher with the new kayak.
More S-Schlag (?), a little more rocker and moving the cockpit more towards the rear made the Biskaya a speed machine that performs incredibly in wind, surfs easily and keeps being controllable and maneuverable on the wave.
Skeg or skudder?
We deicided to offer 3 different Skeg/Skudder options for our Biskaya 2.0.
Why should the Biskaya 2.0 win?
Because man it is one hell of a sea kayak. It has got everything the modern sea kayak looks for in a kayak. It can be personalized in every way you could think of and its versatile sizing it can be used by a whole spectrum of kayakers!
https://lettmann-shop.de/en/
Model

Length/Width

Capacity

Volume
Total/F/C/B

Cockpit
inside

Cockpit
outside

55 Skeg

55 Expedition

65 Skeg

65 Expedition

533 / 51,5 cm

533 / 51,5 cm

533 / 52 cm

533 / 52 cm

115 kg

115 kg

125 kg

125 kg

275/75/128/72 l

275/75/128/72 l

295/80/138/77 l

295/80/138/77 l

79 cm

79 cm

79 cm

79 cm

84 cm

84 cm

84 cm

84 cm

25

25

25

25

21

21

21

21

20

20

20

20

28

28

28

28

22,5

22,5

22,5

22,5
My Vote Goes to this Product