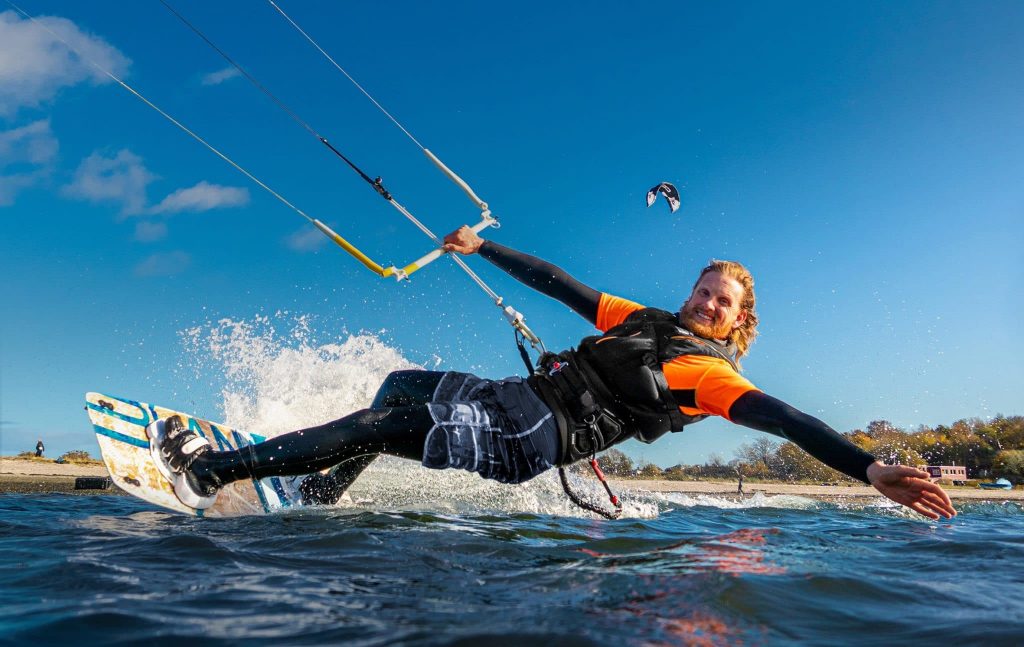 SECUMAR presents the innovation for kite-surfers, foiling and skiff-sailors, dinghysailors and stand-up-paddlers.
Fast and safe on the water. Since water is known to have no bars, but a painful collision with the equipment can still occur in the event of a fall, Bernhardt Apparatebau developed the SECUMAR FURIO hybrid impact vest. If you want to be faster than the wind, you do not only have to feel safe, you also have to be safe. Whether on a skiff or an America's Cup racer, when kite-surfing or kite-foiling, or on an iQFoil when wind-surfing – speeds between 27 and 50 knots are not uncommon. Falls are inevitable, as are cramps, exhaustion or simply slackness. That's where the FURIO comes in.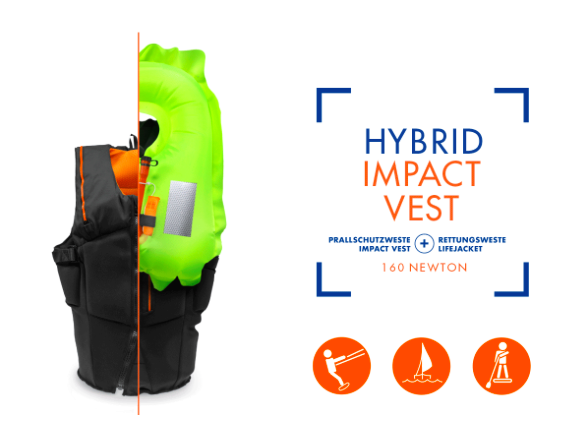 It is a combination of a 50N impact vest with back protection and a manually activated inflatable buoyancy chamber with around 110N additional buoyancy. If the wearer's situation worsens, the distressed person activates a CO₂ cartridge by hand releasing the manual inflator, so that gas flows into the buoyancy chamber. The additional buoyancy ensures that the wearer and vest are stabilised, and the head remains above the water surface. Stand-up-paddlers, who are naturally slower on the water, can also protect themselves in this way with the FURIO. The hybrid impact vest fits close to the body to give the athlete maximum freedom of movement during manoeuvres. This applies to the stand-up-paddler, the foiler moving in the cockpit or hanging in the harness, as well as to kite- or wind-surfers in combination with a hip or seat harness.
The harness hook is simply pulled through an opening in the lower front area. In case of a skidding fall, a removable back protector provides additional protection.
Quick stabilisation of vest and wearer thanks to a wholesome inflatable bouyancy chamber. Head and airways stay above the water surface after the inflation – even if the wearer looses consciousness
160N total bouyancy after inflation.
Compatible with trapeze harness for foilers and dinghy-sailors as well as with a waist- or sit-harness for kite-surfers.
With detachable back protector for additional spine protection.
Certified according to DIN EN ISO 12402-4, DIN EN ISO 12402-6 and DIN EN 1621-2.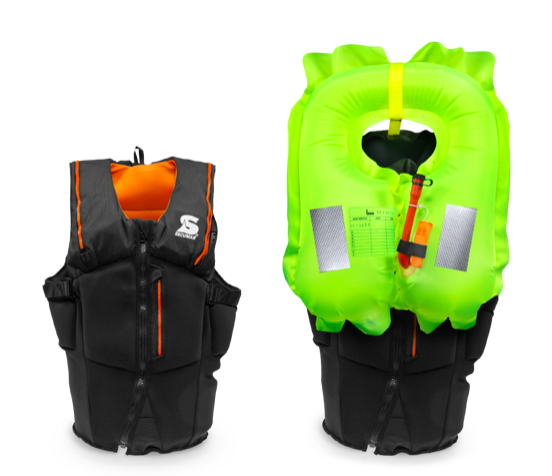 Fine-tuning for wearing comfort: A robust front zip for quick donning and doffing of the vest. A storage pocket in the chest area for smaller items and a hanging loop in the neck. As well as an easily accessible handle so that the rescue collar can be released quickly. An adjustable belt ensures an optimal fit of the vest, which is available in four sizes. The FURIO model is available from week 24.
For more information click on the link > https://www.secumar.com/fr/