BIG ADVENTURE - Bonafide RVR119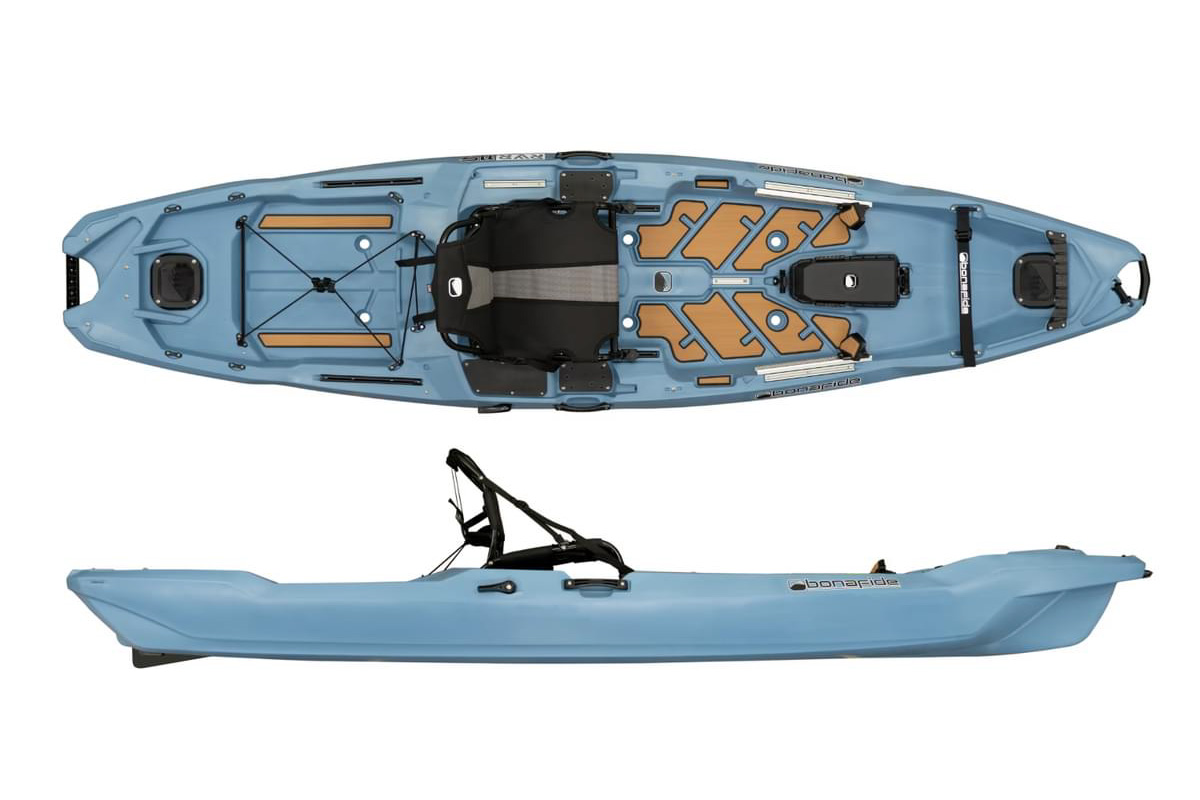 Introducing the Bonafide RVR119: Your Ultimate River Fishing Kayak
Unleash Uncharted Waters: Embark on a kayak fishing adventure like never before with the revolutionary Bonafide RVR119. A testament to the essence of kayak fishing, the RVR119 is engineered to provide unparalleled access to even the most remote and hard-to-reach fishing spots. Designed around three core principles—hull-ability, mobility/transport, and fishability—the RVR119 is your key to conquering moving waters and redefining your fishing experience.
Hull-Ability: Navigating with Precision: The RVR119's distinctiveness lies in its hybrid maneuverability and fishing stability. Crafted with precision, the Bonafide river hull incorporates a groundbreaking drop skeg system. When the skeg is deployed, the RVR glides effortlessly across flat water with unwavering tracking. With the skeg retracted, the RVR transforms into the ultimate river fishing kayak, striking the perfect balance between control and agility. This versatile skeg also empowers you to master your drift amidst currents and winds. The bow's unique kick rocker shape ensures stealthy upstream approaches, making those elusive fish your inevitable catch.
Mobility/Transport: On and Off the Water: Mobility and transport are paramount in river fishing, and the RVR119 surpasses expectations. At 11 feet 9 inches, it's meticulously sized for optimal balance between mobility, gear capacity, and agility. Every aspect of its design facilitates ease of movement—multiple grab points, including the innovative Fat Grip handle, undercling grip areas, and midship handles for seamless portaging and transport. Dual replaceable skid plates enhance balance while protecting your gear, and the RVR is primed for the Bonafide Sidekick Wheel system to handle any terrain.
Fishability: Angler's Edge. Fishability is embedded in the RVR's DNA, addressing challenges posed by moving waters and remote environments. Fully integrated dual Anchor Wizards offer quick anchor deployment and retraction, while internally run tubing ports prevent snags. The unique Triple Action Bow Strap provides not one, but three functions: aiding kayak pulling, securing dry bags or boxes, and organizing fishing rods for transport. The deck boasts scupper holes for efficient water drainage, groove tracks for gear mounting, and a dedicated slot for the Ketch Measuring board—ensuring precision measurements and organized angling.
Unrivaled Performance: The RVR119 is a platform of innovation, seamlessly accommodating fishing electronics through the integrated Bonafide Dry Pod. The SS foot braces grant precise positioning, and the hand-sewn seat delivers optimum comfort. The stern caters to motorization with battery mounting options, while YakAttack attachments provide customizable space. With its exceptional ratings across various categories—Flatwater, Slow Current, Fast Current, Choppy Water, Surf, Stability, Speed, Tracking, Agility, and Comfort—the RVR119 redefines kayak fishing performance.
Specs: 
Length: 11′ 9″
Width: 35 inches
Weight: 85 lbs
Capacity: 425 lbs
My Vote Goes to this Product