Once more, KS Publishing, renowned for Kayak Session Mag, Paddle World Mag, Sup World Mag, and ThePaddlerguide.com, collaboratively united with the Paddle Sports Show to organise the Paddle Sports Products of the Year Awards. The ceremony unfolded amidst the industry's classic dinner, featuring a total of 14 distinguished categories. Notably, this year introduced the 'Dealer Buzz Awards,' a category determined through online voting by industry professionals. The remaining awards continue to be discerned through the discerning judgment of a dedicated jury.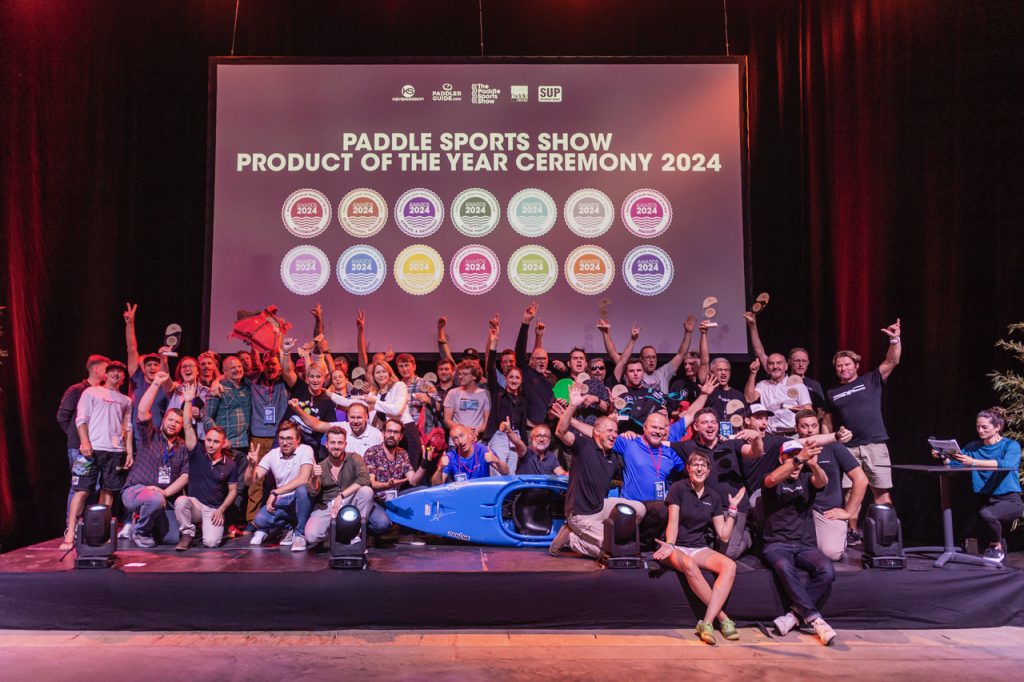 Dealer Buzz Award
NRS – All-New Ninja PFD Line
The all new Ninja PFD line from NRS was chosen for Paddle Sports Show Product of the Year Award in the Dealer Buzz category, a brand new category to be brought to the Ceremony where the winner is determined by online votes.
Building on the longstanding popularity of the Ninja PFD, NRS updated it with our Orbit Fit System, extended the size range, and added two new models to better serve the needs of a wider variety of paddlers. The standard Ninja is their classic side-entry PFD with a large clamshell pocket and low-profile design. The Ninja OS adds features for offshore touring, such as SOLAS reflective accents and the Ninja Pro gives whitewater paddlers a lightweight, athletic vest equipped with a quick-release rescue harness. Orbit Fit is an entirely new way of constructing a life jacket, using multiple layers of precision-cut foam to create preformed shape that naturally conforms to your torso.
"Because one size does not fit all, we've incorporated graded sizing, meaning that each of three sizes is uniquely designed for its intended user (versus the conventional method of simply changing the strap length)."
Continuous interconnected webbing provides maximum strength for safety, and the integrated knife dock keeps your fixed or folding blade accessible and protected. Finally, the Ninja series is built with PVC-free foam and 100% recycled exterior fabrics.
For more info on the NRS Ninja Line, go to: nrs.com 
---
Stand Up Paddling Award
SIC – RS14 x 24.5 D
SIC Maui won the Stand Up Paddling Product of the Year Award for their RS14 x 24.5 D board, a versatile board that caters to paddlers of all skill levels whether it be racing, touring or just everyday paddling.
The RS in DF all-water raceboard has a recessed deck and is made with Dragon Fly molded wood sandwich construction. It has the same high-performance features found in the award-winning RS in SF but in a 2024 durable DF build at a budget-friendly price. The RS in DF is a great entry-level raceboard and the perfect performance touring option for those looking to go the distance in ocean conditions.

The RS recessed deck provides a slightly lower centre of gravity without impeding rail-to-rail foot control. The bottom centre channel helps provide directional tracking in conditions, while the rocker provides exceptional glide in the flats.
Specs : 
RS 14'0" x 24.5"
(297L)
Dragon Fly Construction
8.3" Weedless 3K Carbon Fin
For more info on the SIC Maui RS14 x 24.5 DF, go to: sicmaui.com
---
Sustainability Award
Peak PS – Circular Ready Program
Peak PS won the Sustainability Award for 2024 at the Paddle Sports Show for their ground breaking Circular Ready Paddlesport Vest PFD and Adventure Lite jacket. Both new products are born out of Peak's evolving sustainably ethos. These items have been designed to be deconstructed.
"We are Circular Ready with the ultimate goal of being recycled back into raw materials at the end of their life!"

Traditionally all outdoor garments are linear in their existence, with beginning and end points to them that are not linked. Linear manufacturing starts with the production of raw materials from non renewable, unsustainable sources. These materials are processed into technical components that are then manufactured into a finished garment. The garment is then purchased, (hopefully) thoroughly used, enjoyed and cared for until diminishing performance levels brings an end to its usefulness. At this point the garment is unfortunately, more often than not, discarded into landfill.
Circular based manufacturing reduces the need for virgin (new) fossil fuel based raw materials and minimises the waste of resources. For circular manufacturing and recycling to be a reality, garments have to conceived and designed differently. Circular products by design have to create the link between the end of a garments usable life and the start point of a brand new one. To be able to recycle garments successfully back into usable raw materials, circular products, their materials and features, have to (where possible) be produced from the same singular material. Furthermore, the design and construction needs to be taken into account to make deconstruction at the products end of life, a simple task.

"Our valued supplier Pertex has developed a single, polymer fabric called Revolve. All three layers within the fabric and their lamination adhesive is made from recycled polyethylene / polyester, making a Circular Ready garment a reality."
For more info on the Peak PS Circular Ready System, go to: www.peakuk.com
---
Inflatable Award
Gumotex – Seashine
Gumotex won the Product of the Year Award in the Inflatables category for their Seashine, an inflatable kayak with some cool new features we haven't seen before including its v-shaped drop-stitching!
The main innovation of this kayak from Gumotex is it's V-shaped drop-stitch rubber based bottom on the 2/3 of the boat converting to flat stern part. The V-shaped part improves the speed of the boat and helps to break through the waves easily. The flat stern part on the other hand ensures also great stability. In short, shaping the bottom of the kayak is the next step in Gumotex rubber drop-stitch evolution increasing the performance of the boat and still keeping all the advantages of the inflatable construction and rubber coated textile material.
"In addition, we equipped the kayak with 2 seats of brand new construction using the push-push valves for easy inflating."
The kayak can be used as a double or single seater, the adjustable positions of the seats are prepared to provide enough space for both paddlers, and also to maintain ideal weight-point position. Optional installation of steering rudder kit or the optional deck, double- or single-, makes Seashine a great and practical touring sea kayak. The bow and stern of the kayak are covered by short decks deck with waterproof zippers.
Specs:

Seashine
Length: 470 cm
Width: 82 cm
Weight: 18 kg
Capacity: 250 kg
For more info on the Gumotex Sunshine, go to: gumotex.cz
---
Whitewater Award
RTM – Paname
RTM were brought forward for the Whitewater Product of the Year Award at the ceremony for their newest kayak design – the Paname. A kayak-cross designed boat with the flexibility for everyday river paddling!
ROTOMOD celebrates its 50th anniversary in 2023. For almost 40 years, the French company has been designing, producing and distributing polyethylene canoes and kayaks under its own brands, RTM and DAG.
NEW for 2023/2024: A whitewater kayak developed in collaboration with members of the French Slalom team. The Paname has been designed for paddlers who are looking for performance both in competition and out on the river.
"A boat designed by elite paddlers that remains accessible to all. Fast, fluid and responsive, this new model is developed both for fun and reaching Kayak cross podiums."
Technical characteristics allow for easy and efficient paddling. The front volume is optimised to facilitate efficient ramp entry and boofing as you journey down river. The low volume stern is designed for fast and stable manoeuvring as well as speed and glide. The low and recessed deck facilitates quick movements and allows for passing through kayak cross gates with maximum control.
The Paname is available in two sizes, adapted to fit a range of the paddlers.
The Paname is for optimised for paddlers in the 70-85kg weight range while the Paname S is aimed at those in the 55-70kg range.
"Paname is made from Super Linear polyethylene. The seat and footrest are made from 100% recycled polyethylene, produced by ROTOMOD."
Specs:

Paname
Length : 274 cm
Width : 63.5 cm
Weight :18 kg
Capacity : 1 person
Max charge : 239 Litres
Paddler weight : 70/85 kg
Paname S
Length : 274 cm
Width : 60 cm
Weight :18 kg
Capacity : 1 person
Max charge : 207 Litres
Paddler Weight : 55/70 kg
For more info on the RTM Paname, go to: https://www.rtmkayaks.com/en/
---
Innovation Award
Level Six – Class 6 Squirt with Anti-Implosion System
The all-new Class 6 spraydeck from Level Six won the Product of the Year Award in the Innovation category! A whitewater spraydeck with some pretty cool innovation behind it. Using strong kevlar and a new design that helps prevent implosion/explosion!
"This is the ultimate whitewater sprayskirt. If you are a paddler pushing your limits, running big drops and the risk of an implosion could be costly this skirt was built for you."

Built from the ground up using a thicker neoprene deck with a abrasion resistant lamination on every piece of neoprene except the tunnel, larger Kevlar reinforcement areas, a high friction underbelly print that sticks to the cockpit rim and a thicker rubber rand compared to the Ace sprayskirt. The rubber rand is stitched and glued beneath the flange to prevent the rand from getting a "rolling" motion when under pressure either from an implosion or an explosion from running a big drop. Oh and it's also made with petroleum free  neoprene. Keep it green and send it clean.
Features:
Stitched and glued thick rubber rand
4mm neoprene deck with a abrasion resistant lamination
Kevlar reinforced side panels
High friction underbelly print
High Vis safety pull loop

More info on the Class 6 spray squirt by Level Six, go to: https://www.levelsix.com/
---
Paddles Award
Dollo Paddle – Devils Creek
Dollo Paddles was spotlighted for their Devils Creek Paddle as it won Product of the Year Award in the Paddle category. After mainly specialising in slalom paddles they decided to bring out their first Whitewater design and it has been a hit!
After two years of design, Dollo so far specialised in competition slalom paddles, has released its first river paddle. The Devil Creek is directly inspired by the Devil, a popular kayak slalom paddle and 2019 world champion. The paddle has been designed to provide a very pleasant support in traction, while maintaining exceptional stability, particularly on retro-pulsions.
The blade field is made of 10mm red dynel, which means the blade doesn't lose any material while absorbing shocks. The pronounced reinforcements on the back of the blade significantly increase its strength. The blade is 90% carbon. The Devil Creek features CNC-machined PVC foam, 3K carbon fibres, used for many years in sports equipment. Combining unidirectional and multi-axial carbon fibres, it's an optimum construction for intensive river use. The paddle tube is 29 mm diameter carbon The paddle is supplied in kit form, with the blades to be glued to the shaft by yourself. The kit includes a carbon ovalizer that can be fitted with heat-shrink tubing.
Specs:

Devils Creek
One size M Surface area: 724 cm²
Length: 47.4 cm
Width: 20.7 cm
Weight: 890 grams
For more info go to: https://dollo-pagaies.fr/
---
Foil Sports Award
Indiana Sup & Surf – Downwinder
In the Foil Sports category we saw Indiana win Product of the Year Award for their Downwinder board. A board bringing an unseen bottom shaped board taken from traits of Kite-Foil and SUP Race.
The Indiana Downwind/Flatwater Foil Boards were designed to combine maximum glide and early release.

"Our goal was to create a board that will generate early lift on flat water and small bumps to make the downwind foil experience much more enjoyable and exciting.
Our shaper Gunnar Biniasch took elements from his surf, wind and kite-foil board designs and combined them with elements from SUP Race boards. He came up with a unique bottom shape specific to the sport of downwind SUP Foiling."

The concave rails tapering to the tail creates two boards in one:
1. The thin keel in the tail allows the rider to get an early glide and an easy release from the water.
2. The wider deck section above the keel gives stability for paddling in calm water when getting out into the bumps.

The bottom shape is round underneath the front foot, which releases the board from the water instantly allowing a quick acceleration. The narrow outline and small width allow the board to cut through the water with ease for an effortless acceleration.

Indiana boards are produced in a small factory in Latvia with the goal in mind to be as light as possible without compromising durability. The embossed "Crocodile Skin Deck Pad" offers an amazing grip without creating skin rash during take off and paddling on your knees and feet.
Specs:

Downwinder
Length:  7'6" – 228.6 cm
Width:  20″ – 50.8 cm
Thickness:  5 5/8″ – 14.3 cm
Volume:  112.5 L
Weight: 6,0 kg
Recommended Rider Weight: 50-85 kg
For more info on the Indiana Sup & Surf Downwinder Foil Board, go to: www.indiana-paddlesurf.com
---
Sea Kayaking Award
P&H Sea Kayaks – Volan Ultralight
The Volan Ultralight from P&H Sea Kayaks won Product of the Year Award in the Sea Kayaking category for its innovative technology to not only make it ultralight but also manoeuvrability!
P&H Sea Kayaks have optimised their vacuum infusion technology with a focus on weight savings to produce their new Ultralight layup, available in the Cetus, Aries, and Volan, as well as the brand new Composite Virgo, resulting in a boat weight as little as 14kg. Ultralight is perfect for inland and light coastal conditions, and also enhances ocean play potential with less rotating mass.
For more info on the P&H ultralight Volan Sea kayak, go to: https://www.phseakayaks.com/
---
Apparel & Equipment Award
Palm Equipment – Tika Women PFD
Palm Equipment won Product of the Year Award in the Apparel and Equipment category for their all-new woman's PFD – the Tika. A brand new design from the team focusing as much on the fit as well as flotation and safety aspect!
'It fits perfectly'. In 1993, the Canyon S was Palm's first woman's buoyancy aid, possibly the first anywhere.
"Recent PFDs like the Extrem or Peyto are well-loved, but we've never felt we quite got it really right. Until now. We've designed a PFD for women where fit is as essential as floatation. We wanted to design a buoyancy aid that not only worked with all female body shapes, but crucially fitted well against the chest. No more squeezing into your PFD, comfort was the ultimate goal. And we think we've achieved that."
Extensive testing and feedback helped create the Tika's unique shape. Removing material at the chest without creating bulk at the waist was a challenge. By creating sections, wrapped to the sides, Palm developed an ideal 3D foam shape and adding supporting neoprene panels to the outside, achieved the perfect fit. Pockets and other external features can easily add bulk.

Palm studied what was carried and used – phones, slings, snacks and PLBs, and made sure the pockets could handle them, but also stayed flat when loaded. Women come in all sizes and shapes, everyone is different, but the Tika is the first time they've had everyone who's tried it tell them 'It fits perfectly'.
"We are committed to paddling equality and encouraging gender balance on the water. Thats why we are pledging a percentage from each sale of the Tika to causes that get more women out paddling."
Colourways: Purple, Tangerine, Teal
Release Date: Dec 2023
For more info on the Palm Equipment Tika Women Pfd, go to: https://palmequipmenteurope.com/gb/
---
Kayak Fishing Award
Native – Titan X
The Titan X from Native Watercraft won Product of the Year Award in the Kayak Fishing category. A pedal-driven fishing kayak bursting with many innovative features!
"Introducing the Native Watercraft Titan X, the pedal-driven fishing kayak that will revolutionise your angling experience. Featuring innovative implementation of electronics and motorisation, precision steering control, 360 PivotPro swivel seating, and unmatched stability. The Titan X is the pinnacle of fishing vessels, and it's made in the USA. Rule the water. Catch more fish."

Equipped with the renowned Propel Pedal Drive, the Titan X allows you to effortlessly navigate any waterway with smooth, efficient, hands free, peddling to get you where you want to go.  Glide through the water with ease and reach your favourite fishing spots in record time. 
Experience the new Springblade rudder system, specially designed to give you ultimate control over your kayak's manoeuvrability. Effortlessly turn and track your way through even the trickiest water conditions, allowing you to access hidden fishing havens with precision and ease.

The all new PivotPro Seating, featuring 360-degree swivel action to access all parts of your boat and all angles of fishing. The Orbit Pro puts your comfort first. Enjoy the freedom to adjust your position for pedalling or accessing your gear The Orbit Pro allows you to maintain optimal comfort during those long, rewarding fishing trips. The seating also features underseat tackle storage for easy access to your most used gear.
Specs:
Titan X 12.5
Length: 12' 8"
Width: 40"
Depth: 14.5"
Capacity: 500 lbs
For more info on the Native Watercraft Titan X, go to: https://bigadventures.com/
---
Accessories Award
Whetman Equipment – Sea Kayak Hatches 
Whetman Equipment won Product of the Year Award in the Accessories category for their Sea Kayak Hatches. Hatches made with a fine attention to paddlers needs and durable for any extreme weather!
Sea kayaking is going to be elevated with these new hatch covers; where there was only black let there be a tidal flood of colour! Look closely and discover real attention to the details which a paddler needs. Details such as texture grip and additional underside netting options. These hatches are also temperature stable from minus 40 to plus 200 degrees C. The Hydrosil 250 material is non toxic, sustainable, UV resistant, zero waste & absolutely no micro plastics. Oval hatches have four deck tie off points for extra security as-well as underside tie off grommets to take netting so essential kit remains dry and is immediately found; this is also fitted on the 8 inch & 10 inch day hatch!
Specs:
15cm =     small front sweet hatch
20cm  =    8 inch day hatch
24cm  =    10 inch hatch
44/26 =    small oval
42/30 =    wide oval
​Emergency Hatch Set = hi-tensile & flexible.
Covers fit ALL sizes of hatches
For more info on the Whetman Equipment Sea Kayak Hatches, go to: https://www.whetmanequipment.com/#/
---
Canoeing Award
Roto – Recycled Canadier
The Canadier from ROTO won Product of the Year Award in the Canoeing category, using recycled Polyethylene the canoe is made from 3 layers making it super durable!
The Roto Group has been recycling polyethylene for over 30 years. They buy waste polyethylene on the market and recycle used products that they get from customers 100%.
"In the past, we used these materials again to make garden furniture and planters. This year we started producing a special PE cycled line of kayaks and canoes."

"In our laboratory, we produce material from recycled packaging, which is collected from the nature during ecological campaigns. Waste packaging is supplied to us also by shops and other factories. We care for the future generations. We do everything we can to protect a clean environment."

CANADIER 525 A classic open boat made of long lasting 3-layer polyethylene with PE – seats for more security and durability and storage place in 2nd + 3rd seat. Its lightweight properties makes it easy for paddlers to carry it. Stable in the water it is spacious and easy to manoeuvre.
Specs:
Canadier
Weight: 49 kg
Length: 525 cm
Width: 93 cm
Height: 57 cm
For more info on the Roto Canadier, go to: https://roto-group.co.uk/canoes/
---
Recreational Paddling Award
Nortik – Scubi Speed
The Scubi Speed, brought to us by Nortik was awarded Product of the Year in the Recreational Paddling category for its groundbreaking technology and the ability to pack into a backpack size to make it super easy to transport!
The Scubi's finally enter the touring class of kayaks. Length, slim shape, proven hybrid technology: these are the key ingredients for Nortik's latest innovation: The Scubi Speed. The key facts are impressive; with a length of 460 cm at a width of 68 cm and a weight of only 12 kg, the DNA of the Scubi Speed is clear: a highly mobile, elegant hybrid kayak with a focus on tracking, speed and sporty performance.
The pack size remains small as always with the familiar backpack format of the Scubi 1XL and is therefore also comfortable to carry, even over longer distances.
"The Scubi Speed is based on the Nortik hybrid system technology that has made the easy-to-use Scubi family so successful since its beginning in 2010."
The hybrid technology developed by Nortik combines the best of two worlds: Anodized aluminum frame reduced to a minimum and therefore super light for stiffness and the excellent tracking of a classic folding kayak. And lateral high-pressure air tubes for rapid set-up and ideal buoyancy.
The innovative hanging seat of the Scubi allows dry and fatigue-free sitting exactly on the waterline. For the new model, the technology has been developed even further to achieve a higher air pressure on the one side and realise the sporty shape needed for intended use on the other side. A deck is optionally available. It is in the same design as the famous Scubi 1XL with a rigid coaming. The Nortik skirt and seasock can be installed on it, of course. If required, a rudder system is also available. The extra high backrest can also be used. A Nortik kayak sail is also available for the Scubi Speed.
"In short: 4.60 meters of pure paddling pleasure!"
Specs:
Scubi Speedy
Seat: 1
Length: 460 cm
Width: 68 cm
Weight: 12 kg
Assembly: 8-10 minutes
Pack Size: 85 x 55 x 22 cm
For more info on the Nortik Scubi Speed, go to: www.faltboot.de
---