DROPRACKS - Revolutionizing Outdoor Adventures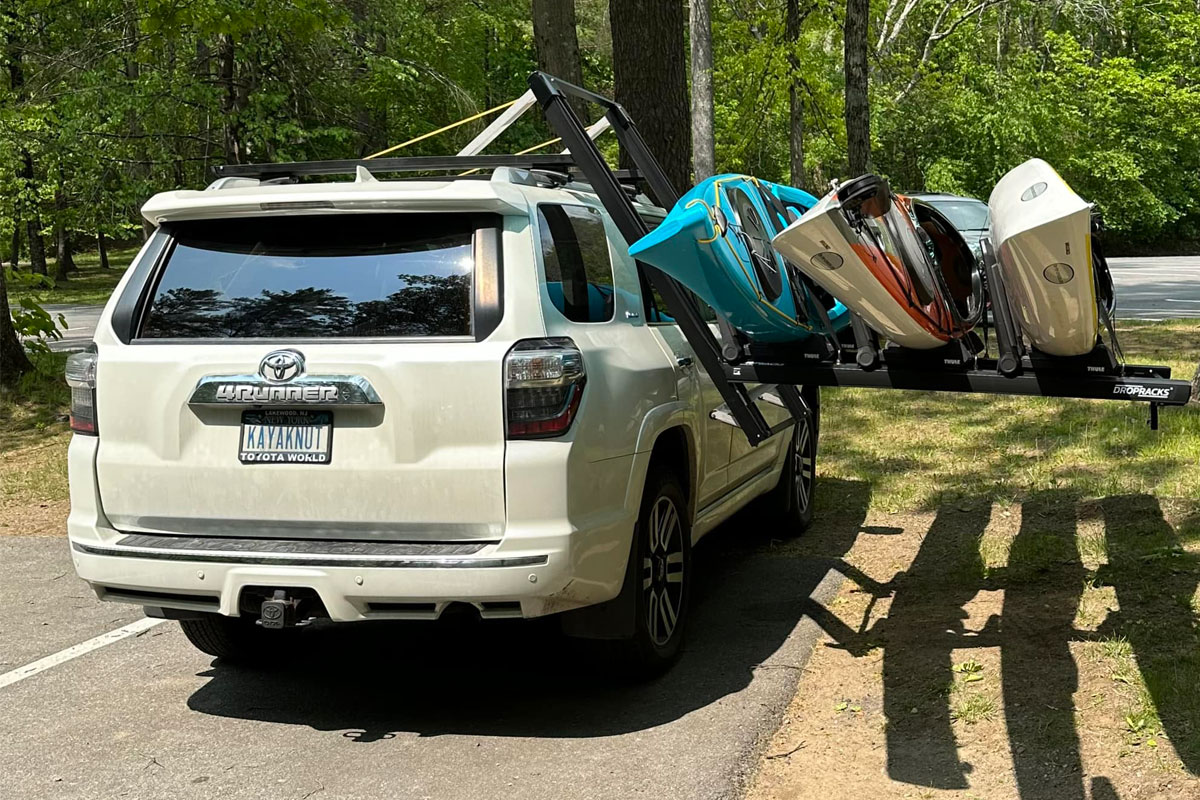 Dropracks is a groundbreaking innovation, offering a universal elevating roof rack system designed for both vans and passenger cars. It redefines convenience by allowing you to lower the entire roof rack to a comfortable height beside your vehicle, making the task of lifting heavy and lengthy objects, such as kayaks, canoes, bikes, cargo boxes, and more, onto your car roof incredibly easy and efficient.
With Dropracks, you can transport your gear safely and effortlessly, eliminating unnecessary physical strain and enhancing your outdoor experience. In many instances, Dropracks becomes the difference between embarking on a memorable trip and staying home.
How Dropracks Works
Using Dropracks is a breeze. You begin by pressing two buttons (located at each end) to release the rack from its base. Then, you simply pull the rack out horizontally. Once fully extended, you unfold a crank arm from the side and start cranking. This action causes the entire rack to tilt diagonally toward you, allowing the carrier section to slide down, leveling out parallel to the ground. Loading your equipment onto the rack, using our accessory carriers or any third-party T-bolt-style mounting accessories. To return the load to the car roof, you reverse the procedure, and the rack locks automatically with a solid "click." The crank arm offers two settings to support light or heavy loads, such as three kayaks side by side.
To ensure user safety, the system integrates a continuously self-locking clutch brake, ensuring the rack stops moving at any position unless the user initiates movement. Together vith versatility of products you can bring, this safety system makes a huge difference in terms of user friendliness and safety compared to other kayak loading systems that has been around.
Technical Details
Dropracks comes in two sizes: "Sport" and "XL." The Sport version boasts a load width of 130 cm and a capacity of 75 kg, while the XL version offers a load width of 150 cm and a weight capacity of 80 kg. Both variants are primarily constructed from black anodized aluminum. The patented kinematic Dropracks concept brings the roof loading space down to waist or chest height, while maintaining a horizontal loading platform. Dropracks is the sole roof loading system that offers a universal roof rack/roof bar at a horizontally accessible level. This maximizes your vehicle's roof as a load-carrying space, allowing for quick, easy, and, most importantly, safe loading and unloading of your gear. The horizontal loading platform accommodates a wide range of gear and accessories, including kayaks, canoes, bikes, ebikes, cargo boxes, work gear, ladders, and materials. These products are designed in Norway and manufactured by the German kinematics specialist Hettich in Spain, adhering to strict quality standards, codes of conduct, and environmental guidelines.
Why Dropracks Makes a Difference and Deserves an Innovation Award
Loading and securing kayaks, canoes, and other watercraft can be a daunting task, especially when done alone. Dropracks eliminate these challenges, enabling solo loading without concerns about physical strain or car damage. With Dropracks in the lowered position, you can easily access and secure your kayak(s) with straps, ensuring a hassle-free and secure experience.
Our customers attest that Dropracks lowers the barrier to outdoor excursions, enabling them to enjoy water activities more frequently. Furthermore, it significantly benefits individuals with musculoskeletal disorders by reducing physical strain and facilitating the handling of heavier items.
Dropracks is a game-changer in the world of outdoor adventure equipment, offering unmatched convenience, safety, and accessibility for everyone, no matter to their own height, muscular strength or size of the car.
My Vote Goes to this Product