This serie of articles, called "NEW @ The Paddle Sports Show 2022" showcases the products that are competing for the « PADDLE SPORTS PRODUCTS OF THE YEAR AWARDS »
Entry for FOIL sports – TAHE , SLASH FOIL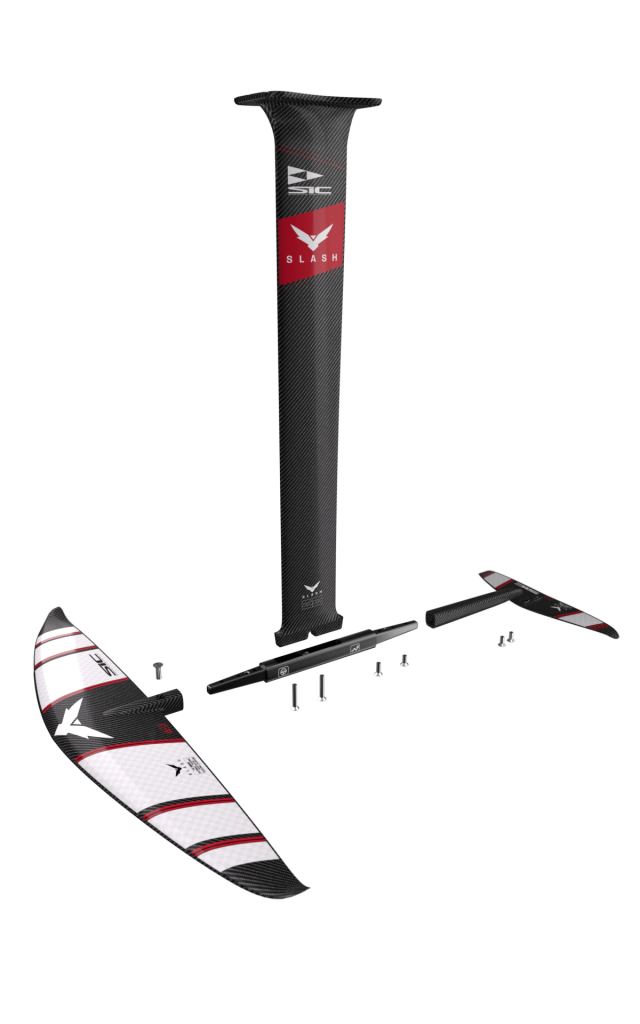 Flip your ride! The Slash range is all about maximum glide, high-speed, and hard carving for those who want
to push Wing Foiling to the maximum. Multiple versatilities for maximum customization according to riding
styles. The innovative flipping central fuselage allows you to trim your foil performance simply by flipping
the orientation of the fuselage. Now featuring an industry-standard 800 mast size replacing the previous 750
mast and we made set up even easier with screw.
Slash Foil is designed and configured with the finest materials available. The base and mast are
constructed with military-grade prepreg carbon and the flip fuselage with alloy. All front and
rear wings, T-Bar, and fuselage are interchangeable, allowing optimum equipment fine-tuning to
accommodate your weight, riding style, and riding conditions.
• HIGH ASPECT RATIO FRONT WING
Better glide and control, perfect for advanced foilers
• FLIP FUSELAGE: TWO IN ONE
Flip the asymmetrical fuselage facing the PUMP ARROW forward for pump riding style and control,
facing the STEERING WHEEL forward for maneuverability and aggressive turning.
• STAB TRIMMING +/- 1°
Favoring lift vs. speed
• CARBON CONSTRUCTION
Front wing 1700 cm2. Rear Wing 250 cm2. Mast 80 cm
• DOUBLE TRACK BASE MOUNTING PLATE
Giving you maximum adjustability fore and aft and the ability to shim your foil
• MARINE-GRADE HARDWARE – TORX 8 MM
Strong and corrosion-resistant
for more info about TAHE OUTDOOR